Introduction:
The eero Mesh WiFi Router is a game-changer when it comes to home internet connectivity. The router comes with mesh technology that allows for a more reliable, faster, and broader coverage of your home's network. This router is easy to set up and has parental controls, making it an excellent choice for families.
With the eero app, you can manage your network from anywhere and set up guest access for visitors. The device has a sleek and modern design that is suitable for any home decor. Its security features are top-notch, with regular firmware updates that keep your network safe from hackers.
The eero Mesh WiFi Router is an affordable and great option for users who experience slow and inconsistent internet connections in their homes.
What is eero Mesh WiFi Router?
The eero mesh router is a WiFi router with very special hardware and software capabilities that can create high-quality and seamless mesh WiFi network for your home or workplace. Several eero routers can work together and implement a WiFi Mesh network in which WiFi Roaming occurs perfectly.
What is WiFi Roaming?
When it comes to large (multi-router) WiFi networks, roaming will be the most important issue. This problem usually happens in large networks that have more than one router.
Roaming happens when a user moves from one router's coverage area to another router's coverage area in a WiFi network. When the user leaves the area covered by one router, the WiFi connection is interrupted for a moment, and when he enters the area covered by another router, the WiFi connection is Re-established again by that router.
WiFi Roaming Problem:
The main problem is that when roaming occurs, the client's connection with the WiFi network is disconnected and reconnected for a moment, however short. In this case, if you are making a video call, your sound and video will be interrupted for a moment and then come back again. But if the Re-connection takes a little longer than usual, your connection may be completely disconnected and you will have to call again…!
In Mesh Technology compatible WiFi networks , the client moves between routers without interruption. Neither the user nor the programs in use will notice the movement between the routers. As a result, there will be no interruption in communication.
Read more : What is WiFi Roaming ?
How eero Mesh Works:
Mesh WiFi network consists of several routers that act as a single network. In this system, one router acts as the eero Gateway (Main router) and several eero routers act as  Extender (Mesh Points) . The eero gateway connects to the modem (internet) using the network cable. All nodes are connected to each other wirelessly and create several paths (routes) to the Main Router.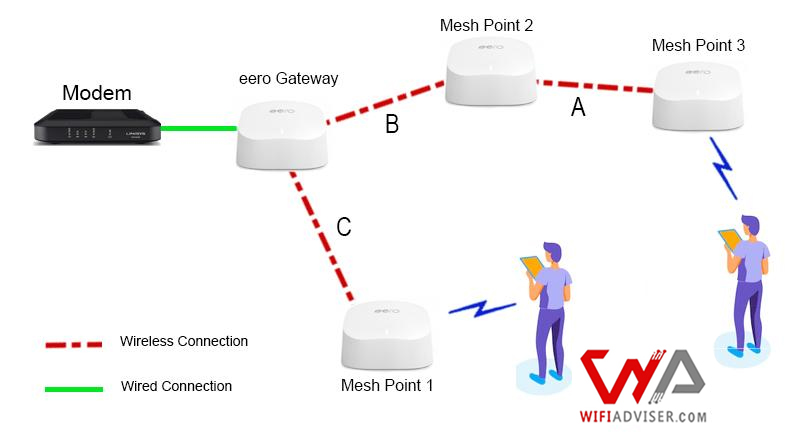 The mesh system intelligently controls and manages the entire network and communication paths (Routes) between Mesh Points and the eero gateway . It also chooses the best path (Route) for user communication to the eero gateway.
TrueMesh Technology:
Many companies have used mesh technology on their routers and tried to achieve the highest quality level of this technology by making innovative changes to their routers. eero company has a proprietary mesh technology called TrueMesh, Which has two special features :
Avoids conflict:

  TrueMesh Relies on dynamic routing algorithms and real-time data to help avoid drop-offs. This technology continuously checks the available routes between the client and the eero gateway to finds the most reliable ones.

Correct Itself :

If an eero router fails, the TrueMesh technology determines a new path for user's wifi traffic among available eero routers, so your signal stays strong. Look at the picture below, here the Mesh Point 2 fails and the mesh system intelligently sends the users' traffic from the Route D->C , ( instead of Route A->B )  to the eero gateway.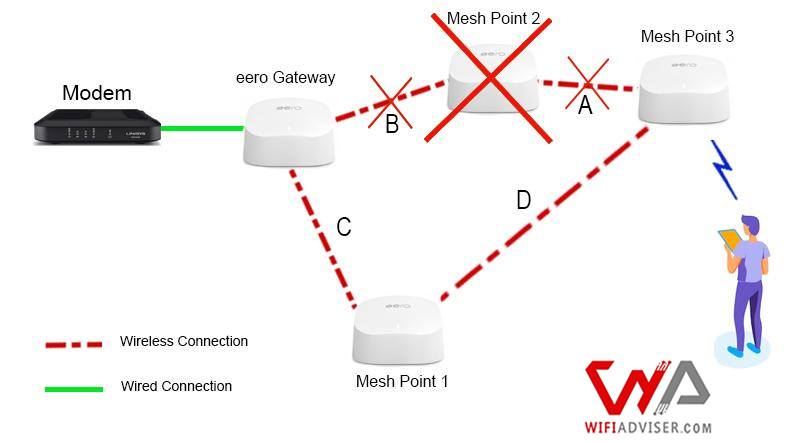 Comparison of eero Router Models:
eero wifi routers are in several models. As you can see here, the main difference between them is the speed of communication (WiFi standard) :
eero PRO 6E
WiFi Standard : WiFi 6E
WiFi Bands: tri-band
Speed Rate : 5400 Mbps
Coverage : 2000 sq.ft
eero PRO 6
WiFi Standard : WiFi6
WiFi Bands: tri-band
Speed Rate : 4200 Mbps
Coverage : 2000 sq.ft
eero 6+
WiFi Standard : WiFi6
WiFi Bands: dual-band
Speed Rate : 3000 Mbps
Coverage : 1500 sq.ft
eero 6
WiFi Standard : WiFi6
WiFi Bands: dual-band
Speed Rate : 1800 Mbps
Coverage : 1500 sq.ft
eero
WiFi Standard : WiFi 5
WiFi Bands: dual-band
Speed Rate : 1300 Mbps
Coverage : 1500 sq.ft
eero Mesh Capabilities:
Smart Home Connectivity:
In general, a smart home is a home in which the electrical appliances inside can be centrally controlled and managed (with an application). From bedroom lamps to refrigerators and washing machines.
All these electrical appliances have communication modules that are connected wirelessly with a central hub (router) using the ZigBee protocol.
In the past, a dedicated hub was used for smart home equipment. But today, a few companies producing WiFi routers have also included the ability to support smart home equipment in their routers. In this way, the WiFi router also works as a smart home hub.
All eero mesh models (except eero/Pro version1 model ) have this capability and can act as both a WiFi router and a smart home hub.
Experience Security And Safety With eero Plus:
eero Plus is an additional service that you can activate on eero routers. With the help of this service, a package of security and management capabilities will be provided to you, including:
Overall Security:

Providing security for a user or a device in a WiFi network is very complicated. A suitable security system should cover the initial stages of connecting users and smart home equipment to the WiFi network to dealing with viruses, Trojans and spyware on the Internet.

Active Treat Protection:

This feature protects you against phishing attacks, viruses, malicious sites and spyware.

IOT Protection: 

Smart home equipment has its own series of risks and attacks, which are expanding day by day. The IOT Protection feature protects your smart home network from these risks.

MalwareByte Feature:

In general, malware includes a wide range of risks, including viruses, Trojans, ransomware, etc. Unfortunately, malwares are increasing day by day and it is becoming more difficult to identify and deal with them. This feature is permanently active in the background of the network and it checks and cleans all types of malwares from the computer and mobile of network users.

Dedicated DDNS Service:

this service allows you to assign a static name for your router. In this way, you can use that name to communicate with the router and the internal network of your home or workplace from anywhere.
Unique Parental Control Features:
Today, with the increase of online entertainment and education services on the Internet, children have become among the most important Internet users.
For this reason, home routers must have the necessary capabilities to control them. eero wifi router has suitable parental control capabilities, including:
Insight Capabilities:
Reporting capabilities, including checking the activities and usage of users on the Internet, are very important. This router has a very professional reporting capability, including:
Network Insight:

Provides a general report of your network security status. You will know the number of blocked attacks, unauthorized ads, filtered contents, etc. at a glance.
Security Insight: A summary and practical report of security cases including attacks and scans performed for each user in a daily, weekly or monthly period.
Data Usage: A summary report of the amount of traffic used by each user is provided. You can have this report on a daily, weekly, and monthly basis.
The importance of this report is very high. It allows you to find out which user or device has used the usual amount of traffic and which one has used an unusual amount of traffic. (If the amount of use of a user or device has increased abnormally in a period of time, there is a possibility of infection with a type of Malware.)
Improve Website Performance :
By using ad block feature, you can limit ads completely or partially. As a result, the speed of opening the pages of the sites increases greatly
Conclusion:
our technical team has performed Different tests on eero mesh WiFi router. Which included mesh network stability test, mesh network handover speed test, 4K streaming interruption test, overall speed test in high noise and low noise environments.In the end, we gave the router a score of 9.5 out of 10.
By purchasing this  WiFi router, you will have a very professional home WiFi network . You can expand your network whenever needed just by adding a new eero wifi router (Without the need for any specialized settings).