When interpreting the results of WiFi speed tests, there are three main metrics to consider: download speed, upload speed, and ping (or latency). The download speed measures the rate at which data can be downloaded from the Internet to your device, whereas the upload speed measures the rate at which data can be uploaded from your device to the Internet. The ping measures the time it takes to establish a connection with a server and receive a response.
Overview:
In general, the higher the download and upload speeds, the better your Internet connection and the faster you can browse, stream, and download content. A high ping time, on the other hand, may indicate network congestion or a latency issue, which can cause lag and delays in online activities such as gaming or video conferencing.
When interpreting WiFi speed test results, it is important to compare your speeds against industry standards and your service provider's advertised speeds, as these may vary depending on your location, plan, and network conditions.
You should check your WiFi speed regularly to acquire your internet connection overall performance. Such a testing method lets you to check whether any clients or services are consuming the bandwidth in an abnormal fashion or not. You can use a speed-test tool to check the internet bandwidth at a certain time."6 Free Internet Speed-Test Tools" .
After checking the internet connection speed, you should be able to interpret the result. Generally, all the speed test tools have the following items in common: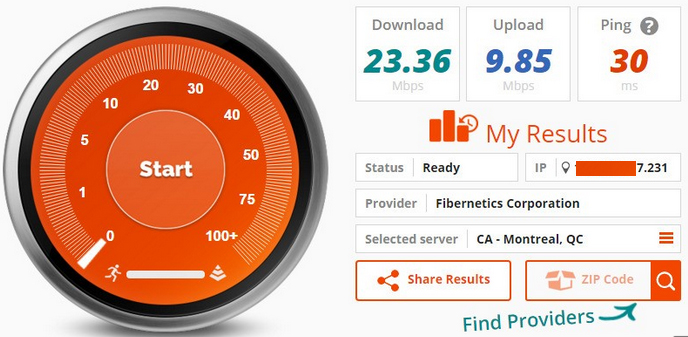 Download speed:
how fast you can receive data from the internet, such as loading web pages, streaming videos, or downloading files. It is measured in megabits per second (Mbps). The download speed is too important because Most of your online activity is based on download, like watching online TV, downloading files, surfing the web.
Upload Speed:
how fast you can send data to the internet, such as uploading photos, videos, or files, or making video calls. It is measured in megabits per second (Mbps). Typically, you don't need a high upload speed unless you are using online gaming or video conferencing.
Latency:
how long it takes for a data packet to travel from your device to a server and back, also known as ping. It is measured in milliseconds (ms). Latency affects how responsive your connection is, especially for online gaming or real-time applications.
Read More : What is Streaming ?
What Speed (Bandwidth) Do I Really Need?
Based on the www.Broadbandnow.com recommendations, you need:
Check email and browse the web: 1-5 Mbps minimum
Stream HD content: 15-25 Mbps minimum
Stream 4K content and play competitive online games: 40-100 Mbps minimum
Stream 4K content, play online games, and download very large files: 200+ Mbps minimum
Most households need internet speeds of at least 50 Mbps to enjoy activities like streaming video on multiple devices. You can use  Bandwidth Calculation Tool to calculate the required internet speed based on the number of users and devices in your home.