How to Choose Home Router
With the increasing number of connected home devices, smart TVs, smartphones, gadgets, and other mobile devices ruling our lives. It's more important than ever to outfit your home with a wireless router that can handle the increased demand for WiFi connectivity.
When choosing a new wifi router for your home, you should consider two important factors, Size of your home and Number of users.
Size of Home
In general, the size of the house is divided into these categories. As you can see, a special wifi router ( By considering the output power , number of antennas , radio technologies) is considered for each of these cases:
Number of Simultaneous Users/Devices
The number of simultaneous users has a direct relationship with the maximum bandwidth and the amount of RAM memory of the router.
For a house with about 5 to 10 simultaneous users/devices, choose a router with overall speed around

3000Mbps

and

256MB

of RAM.
To service a house with about 10 to 15 simultaneous users/devices, choose a router with overall speed around

5000Mbps

and

512MB

of RAM.
For a house with about 15 to 25 simultaneous users/devices, choose a router with overall speed around

8000Mbps

and

1GB

of RAM.
Not everybody needs the kind of performance that you get with the latest and greatest models, and there's no reason to pay for features that you will likely never use. But if you have several family members competing for bandwidth for things like streaming Netflix video and playing PC games online, a new router can make a world of difference and help keep the peace.
We guide you how to choose home router, based on your current and future networking needs and offer our top picks.
Nowadays, any wifi router offers at least two radio bands, a 2.4Ghz band and a 5Ghz band.
The 2.4GHz band According to the laws of physics , has a better coverage and penetration in walls and other structures, but it doesn't offer a reasonable bandwidth .
In the opposite point, the 5GHz band , offers a better bandwidth , but with the least coverage and penetration level.
Consider in mind that the 2.4GHz is more crowd than the 5GHz band. Because your home Microwave Oven , Bluetooth devices and the wireless DECT phone are working in 2.GHz band also, therefore it may offers less bandwidth than you need. But, it is perfectly adequate for tasks like Web surfing and connecting to social media services like Facebook and Twitter.
The 2.4Ghz band is most compatible band for client devices. It serves every new and old wireless clients and suitable for web surfing purposes only. The 5GHz band is newer and suitable for Streaming and Gaming over WiFi.
Recommendations:
If one or more of your devices will be streaming video from a service such as Netflix, or connecting to an online gaming service such as Xbox Live, the less crowded 5GHz band offers significantly more throughput with minimal signal interference.

If you have a busy network with numerous clients vying for bandwidth, a tri-band router is the way to go. Which uses three radios. One radio operates at 2.4Ghz and two radios operate at 5Ghz frequeny. (for load balancing)
For example, you can dedicate one of the 5Ghz bands to handle tasks like video streaming and torrent downloading and reserve the other 5Ghz band for online gaming. Assign the 2.4Ghz band for applications that don't require lots of bandwidth.
Wireless Protocols
WiFi networks use 802.11 protocols to send and receive data. Up to now , the WiFi alliance has introduced 6 standards :
The most widely used WiFi protocol (802.11ac) allows for maximum (Theorical) data rates of up to 3,600Mbps raw data (up to 2Gbps throughput) and operates on 5Ghz band only. WiFi5 and WiFi6 standards utilize two amazing technology for best connection speed and overall performance, Beamforming and MU-MIMO:
Beamforming technology sends WiFi signals directly to a client rather than broadcasting in all directions. Read More : What is Beamforming ?
MU-MIMO technology is designed to provide bandwidth to multiple devices simultaneously rather than sequentially. It means up to four clients can have their own data streams instead of waiting in turn to receive data from the router.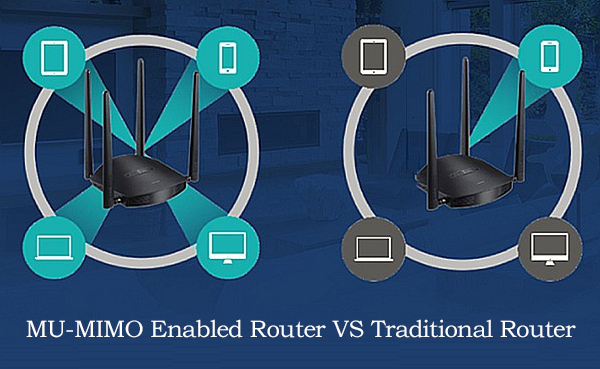 WiFi Router Nominal Speed:



You may see WiFi6 or WiFi5 routers with labels like AC1750, AC3200, AX5400, and so on. This means the overall maximum speed of all router bands. Technically, this speed is nominal and depends on various technical and environmental factors.

For example AC3200 label on a Dual-band router means:

600Mbps

(2.4Ghz band)+

2600Mbps

(5Ghz Band).

Each router can beSingle-Band, Dual-Band, or Tri-band :

Single band

router has only one radio, which is working on 2.4Ghz band.
Dual Band

router has two separate Radio and simultaneously working on 2.4Ghz and 5Ghz bands.

Tri-band

router has three separate radios, one for 2.4GHz and two radio for 5Ghz bands.
WiFi 6 Standard
The latest WiFi protocol (WiFi6 / 802.11ax) is an evolution of 802.11ac technology. That promises increased throughput speeds (up to 10Gbps), less network congestion, greater client capacity, works on 2.4GHz and 5GHz bands.
The WiFi6 has many complicated technologies like OFDMA , BSS coloring ,UL/DL MU-MIMO. We should wait for WiFi6 compatible devices for enjoying these capabilities.
Read More : WiFi6 Technical Specifications
General Recommendations:
Buy a router with at least four 10/100/1000 (gigabit) Ethernet ports. Which allow you to connect to wired devices such as desktop PCs, Network-Attached Storage, hubs, …
At least one USB port makes it easy to plug in a printer or a USB drive and share it across the network,
Try to choose a router that offers removable antennas. Some router manufacturers offer replacement high-gain antennas that will help boost performance.
For home usage, make sure your router has parental controls. This option allows you to control and limit the network access (websites, social networks and …) for children, for certain users to specific times and days.
Make sure your router offers the Quality of Service (QoS) options, for managing the users bandwidth and traffic control. You can decide which users or applications use more bandwidth.
The Guest network is an important option for Home routers. Allows you to make a separate and isolated WiFi network for your Guests , without leaving your entire network vulnerable. This lets your guests connect to the Internet, but doesn't give them access to your files, printers, and other connected devices.
Almost all routers offer several form of security. So , just make sure your router supports the WPA/WPA2 security options and WPS push button. WPS is an easy connecting methods for the compatible devices. ( Read More :

How to Secure WiFi Network

)

Make sure your router supports IPV6 , which is the new version of internet protocol addressing , the current one is IPV4 , but it is being replaced by the IPV6 .
Mesh technology is an easy method for extending your WiFi network, without the need for additional wiring. If you want to use this technology for extending your coverage area in the future, consider in mind the Mesh-Networking is the best choice for you. So, make sure your Router is compatible with Mesh technology.