With the increasing number of connected home devices, smart TVs, smartphones, gadgets, and other mobile devices ruling our lives. It's more important than ever to outfit your home with a wireless router that can handle the increased demand for WiFi connectivity. There are several key differences between a Home Wi-Fi router and an Business / Office Wi-Fi router.
Overview:
It's important to assess your specific needs and prioritize the features that are most important to you while considering a home WiFi router. The capabilities that are important in home routers compared to other routers include:
Parental Control
Customer Support
Ease of Use
Ports and connectivity
Considerations:
It is suggested that you consider the following points to buy a suitable Wi-Fi router.
1. Size of House:
Consider the size of your home and the range of the router. Look for routers with multiple antennas or mesh WiFi systems that can extend coverage to reach every corner of your home. In general, the size of the house is divided into these categories:
The differences between these routers are : Transmit power, Number of antennas, Mesh technology support, RF capabilities .
2. Number of Simultaneous Users/Devices:
The number of simultaneous users has a direct relationship with the Processor power, Maximum wireless speed and the amount of RAM of the router.
For a house with about 5 to 10 simultaneous users/devices, choose a router with overall speed around 3000Mbps and 256MB of RAM.
To service a house with about 10 to 15 simultaneous users/devices, choose a router with overall speed around 5000Mbps and 512MB of RAM.
For a house with about 15 to 25 simultaneous users/devices, choose a router with overall speed around 8000Mbps and 1GB of RAM.
For a house with more than 25 simultaneous users/devices, choose a router with overall speed around 10000Mbps and more than 1GB of RAM.
it's important to note that the actual number of users that can be connected at the same time may vary based on factors like network congestion, bandwidth usage, and the activities performed by each user.
3. Radio Bands:
Nowadays, wifi router may offers up to three radio bands, 2.4Ghz , 5GHz and 6GHz bands.
According to the laws of physics , the 2.4GHz band has a better coverage and penetration in walls and other structures, but it doesn't offer a reasonable bandwidth . The 2.4Ghz band is most compatible band for client devices.
The 5GHz band , offers a better bandwidth , but with the least coverage and penetration level.
6 GHz band has a very high bandwidth, but it has a low coverage and penetration level.
Consider in mind that the 2.4GHz is more crowd than the 5GHz band. Because your home Microwave Oven , Bluetooth devices and the wireless DECT phone are working in 2.GHz band ,therefore it may offers less bandwidth than you need. But, it is perfectly adequate for daily tasks like Web surfing email checking.
Recommendations:
If you have a busy network with numerous clients vying for bandwidth, a tri-band router is the way to go. Which uses three radios. One radio operates at 2.4Ghz and two radios operate at 5Ghz frequeny. (for load balancing)
You can dedicate one of the 5Ghz bands to handle tasks like video streaming and torrent downloading and reserve the other 5Ghz band for online gaming. Assign the 2.4Ghz band for applications that don't require lots of bandwidth.
4. Speed (Wireless Protocols):
WiFi networks use 802.11 protocols to send and receive data. Up to now , the WiFi alliance has introduced 7 standards :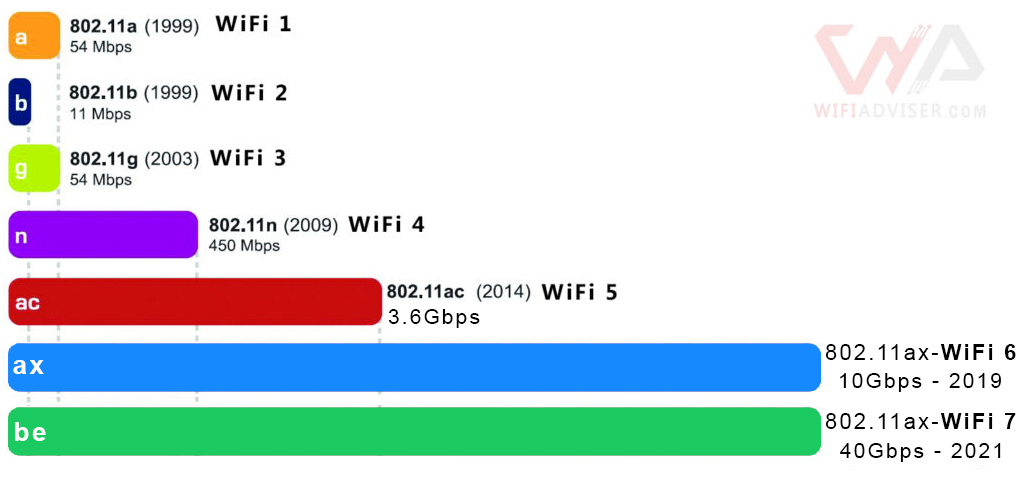 The most widely used WiFi protocol (802.11ac) allows for maximum (Theorical) data rates of up to 3,600Mbps raw data (up to 2Gbps throughput) and operates on 5Ghz band only. WiFi5 and WiFi6 standards utilize two amazing technology for best connection speed and overall performance: Beamforming and MU-MIMO.
A technology sends WiFi signals directly to a client rather than broadcasting in all directions. Read More : What is Beamforming ?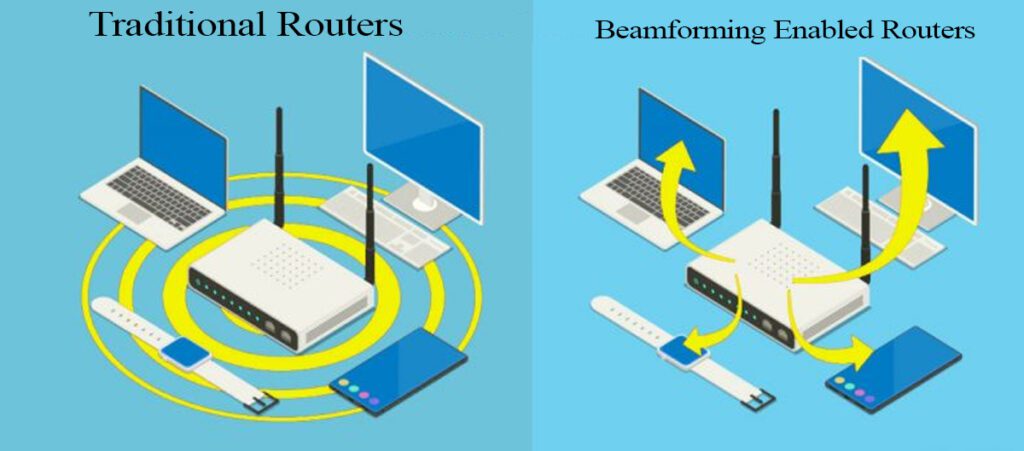 MU-MIMO is designed to provide bandwidth to multiple devices simultaneously rather than sequentially. It means up to four clients can have their own data streams instead of waiting in turn to receive data from the router.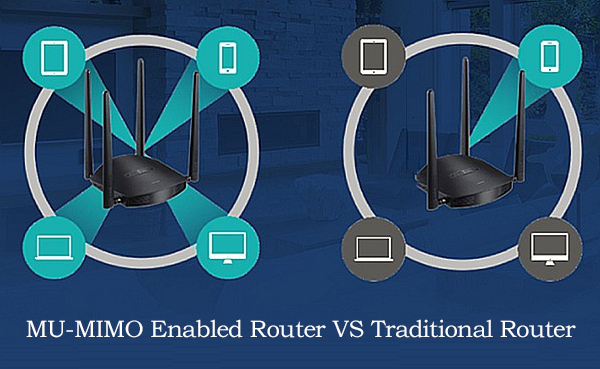 Recommendations:
As a futuristic perspective , look for a router that supports the latest WiFi standards (802.11ax) in addition to supporting the Beamforming technology. and offers fast speeds.
WiFi Router speed is Nominal!
You may see WiFi6 or WiFi5 routers with labels like AC1750, AC3200, AX5400, and so on. This means the overall maximum speed of all router bands. Technically, this speed is nominal and depends on various technical and environmental factors.
For example AC3200 label on a Dual-band router means: 600Mbps(2.4Ghz band)+2600Mbps(5Ghz Band).
5. Mesh technology:
Mesh WiFi network consists of several routers that act as a single network. In this system, one router acts as the main router (Mesh Router) and several routers act as Mesh Points. The main router is connected to the modem (internet) using the network cable. All nodes are connected to each other wirelessly and create several paths (routes) to the Mesh Router.
Some of the benefits of mesh WiFi are:
You can easily expand your WiFi coverage by adding more nodes.
You can avoid dead spots and weak signals in your home.
You can enjoy seamless roaming as your devices automatically connect to the nearest node.
6. Ports:
Consider the number of wired devices you have in your home that require a direct connection to the router. Ensure that the router has enough Ethernet ports to accommodate these devices. Generally, most home wifi routers are equipped with up to 4 ports to communicate with the wired home devices (like Game consoles and smart TVs), along with one WAN port for the Internet communication. The speed of most router's LAN ports is 1Gbps.
New routers, equipped with a SFP (Fiber) or Multi-Gig LAN/WAN ports for higher than 1Gbps speeds. Keep in mind that to benefit from such speeds , you should connect them to a compliant port at your side.
USB Ports:
These are the ports that let you connect external storage devices, printers, cameras, etc., to the router with a USB cable. USB ports can be used for sharing printers, flash disks or media storage. USB ports can also support different speeds, such as USB 2.0 ,USB 3.0, USB 3.1 or USB 3.2. You should look for routers that have USB ports if you want to use these features, and that support the highest speed that your devices can handle.
7. Parental Controls:
Parental Control is a feature that allows parents or network administrators to filter and control the Internet access of specific devices or users connected to the WiFi network. It allows them to limit or block access to certain websites, apps, or content based on predefined rules or schedules. It can also control the following :
Website filtering
Content filtering
Time scheduling
Device-specific controls
Usage monitoring and reports
Parents can typically access and configure these parental control
settings by logging into the router's web-based administration interface
using a computer or mobile device. However, the specific options and
capabilities may vary depending on the make and model of the router.
If you have children, consider routers that offer advanced parental control features, allowing you to manage internet access, restrict websites, and set time limits for certain devices.
8. QOS / Traffic Shaping:
Advance home wifi routers have specific capabilities to manage the services and users bandwidth separately.
QoS allows you to prioritize certain types of internet traffic, such as video conferencing or voice calls, over others to ensure smooth and uninterrupted performance.
The Traffic-Shaping capabilities you can assign a certain amount of bandwidth to one or a group of users.

For example, you can assign

5Mbps

bandwidth for each client or

20Mbps

bandwidth for a group of clients. You can assign these limitation to clients' devices based on the their IP or MAC addresses.
9. Ease of Use and Setup:
Consider routers with intuitive setup processes and user-friendly management interfaces. Look for routers that offer easy configuration options, mobile app support, and automatic firmware updates.
10. Customer Support:
Research reliable router brands with good customer reviews and strong technical support services. Consider their warranties and return policies in case any issues arise.
Conclusion:
Try to be foresight when buying a router. Choose a router that will cover your needs for many years. In my opinion, a router with a speed higher than 8000Mbps, with one USB 3 port and at least 4 LAN ports and a WAN port with a speed of more than 1Gbps can cover the needs of the next 4-6 years.