First, let me explain about the signal propagation model in wireless networks:
Radio waves are broadcast by the transmitting device in a range (according to the type of antenna( and the receiving devices that exist in that range receive the transmitted signals.
Since the clients do not have a fixed and specific location, and the transmitter does not know their location, the signals are spread in all the covered areas. Whether there is a client in that area or not

WiFi networks work in the same way. The wireless router broadcasts WiFi signals in its coverage area, whether there are clients in that area or not .But this method of broadcasting signals is a big limitation in WiFi networks?
Why should the router send signals to places where there may be no receiver?
Doesn't this method decrease the efficiency and performance of the router?

Definitely yes.

What is the practical solution to overcome this limitation?

 

 

Detecting the current location of each client and sending waves

only

in their direction, instead of sending in all directions.
In fact, the router focuses the signals towards the client, thus the quality of the client's communication increases significantly.
BeamForming Technology :
Beamforming is a complex technology in wireless networks, and as the name suggests, it gives form to direction of signals and focuses them. Technically, beamforming is a technology in WiFi routers that can find the current location of each client and focus the signals towards it.
Normal Router: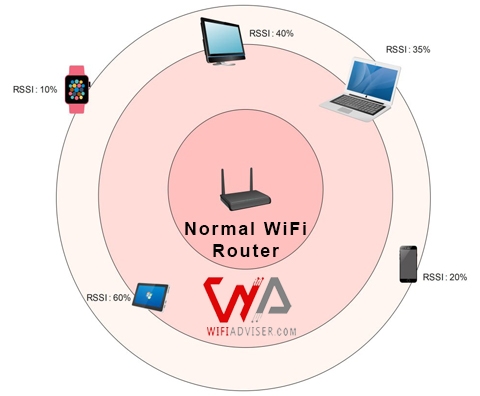 Beamforming Router :  As you can see, Beamforming increases the client's RSSI ( Received Signal Strength ), Which increases the quality of the communication.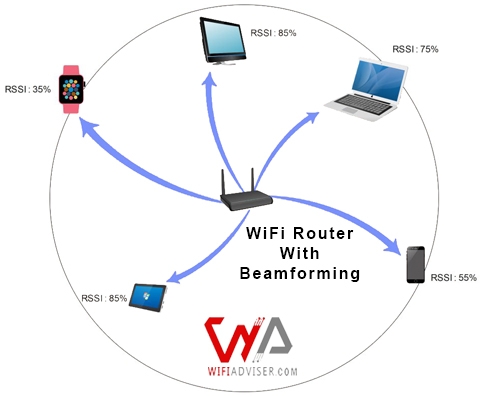 There are 2 types of beamforming technology

:
Explicit Beamforming: needs

to be supported by the client device

s

.

From WiFi5 standard onwards, routers and clients support this technology.
It's better to note that while WiFi 5 standardized the beamforming technology, But not all 802.11ac devices support beamforming.

 

Explicit Beamforming is more effective than Implicit beamforming.

Implicit Beamforming (Universal Beamforming) :

There is no need

to be supported by the clients.

It is usually used for WiFi4 (802.111n) clients that do not support the Explicit model.
Since this technology was not standardized in 802.11n ( WiFi4) standard, and on the other hand, it was a bit expensive to make, manufacturers made few models of routers compatible with this technology.
Here, we have gathered a list of the best beamforming routers:
A high-end router that has the highest rating in every field. In addition to having implicit and explicit beamforming technologies, you will have the highest possible coverage with 8 high-performance antennas.
The presence of a network port with a speed of 2.5Gbps along with WiFi 6E standard, you will have no limits to reach incredible data rates in the wired and and wireless network.  Asus ROG Rapture GT-AX11000 Review