Introduction:
The Google WiFi Router uses mesh networking technology, which enables multiple access points to communicate with each other and provide an uninterrupted connection for all your devices. The router fits perfectly into any environment, blending seamlessly with your decor and offering top-notch coverage simultaneously.
Setting up this WiFi router couldn't be easier – all you need is a smartphone and a Google account. Simply download the app and follow the step-by-step instructions, and you'll have a reliable, high-speed connection with no dead spots in no time.
It comes with parental controls, allowing you to filter content and set online timers for your children. The router also receives automatic updates, keeping it up to date with the latest software to maintain optimal performance.
In conclusion, Google WiFi Router is an excellent investment for anyone looking for reliable connectivity and full coverage for a great experience. With its simple setup and useful features, you are guaranteed the best internet experience possible.
What is Google WiFi Router?
The Google router is a router with very special hardware and software capabilities that can create high-quality and seamless WiFi network for your home or workplace. Several Google routers can work together and implement a WiFi Mesh network in which WiFi Roaming occurs perfectly.
What is WiFi Roaming?
When it comes to large (multi-router) WiFi networks, roaming will be the most important issue. This problem usually happens in large networks that have more than one router.
Roaming happens when a user moves from one router's coverage area to another router's coverage area in a WiFi network. When the user leaves the area covered by one router, the WiFi connection is interrupted for a moment, and when he enters the area covered by another router, the WiFi connection is Re-established again by that router.
What is WiFi Roaming Problem?
The main problem is that when roaming occurs, the client's connection with the WiFi network is disconnected and reconnected for a moment, however short. In this case, if you are making a video call, your sound and video will be interrupted for a moment and then come back again. But if the Re-connection takes a little longer than usual, your connection may be completely disconnected and you will have to call again…!
In WiFi networks compatible with Mesh Technology, the user moves between routers without interruption. Neither the user nor the programs in use will notice the movement between the routers. As a result, there will be no interruption in communication.
Read more : What is WiFi Roaming ?
What is Mesh network ?
Mesh WiFi network consists of several routers that act as a single network. In this system, one router acts as the main router (Mesh Router) and several routers act as Mesh Points. The main router is connected to the modem (internet) using the network cable. All nodes are connected to each other wirelessly and create several paths (routes) to the Mesh Router.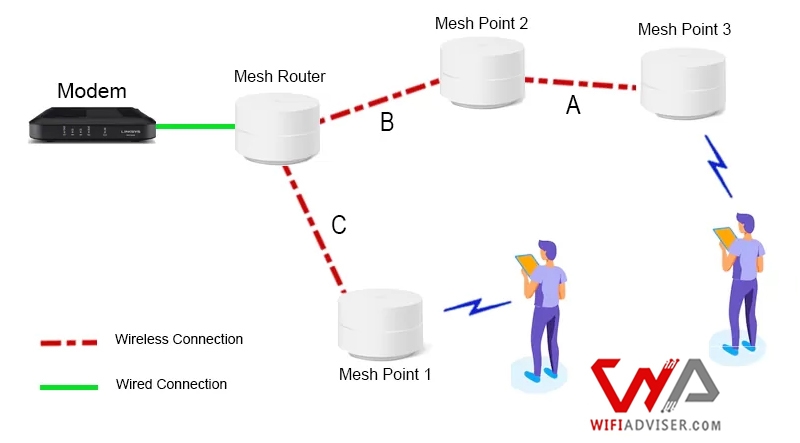 The mesh system intelligently controls and manages the entire network and communication paths (Routes) between Mesh Points and the Mesh Router. It also chooses the best path (Route) for user communication to the Mesh Router.
Advantages of Google Mesh Technology:
Many companies have used this technology on their routers and tried to achieve the highest quality level of this technology. (by making innovative changes to their routers).
Google has implemented this technology on google wifi router in a very specialized manner. By making changes in the hardware and software of its routers, in addition to using 802.11k and 802.11v technologies, it has been able to implement mesh technology perfectly.
In addition to perfect WiFi roaming, Google routers also have other technical capabilities that distinguish them from other companies' routers, Self-Healing feature is one of them: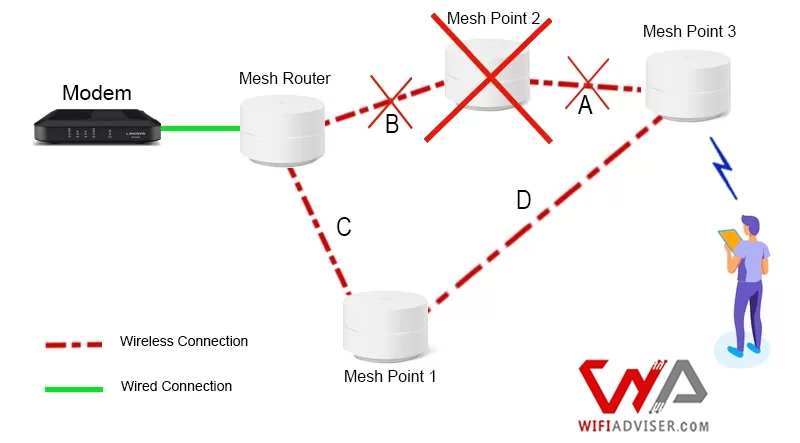 What is Self-Healing ?  In a mesh network, when one of the mesh points fails or its communication quality decreases, the communication routes change quickly and users are connected through another route. Look at the picture above, here the Mesh Point 2 fails and the mesh system intelligently sends the users' traffic from the Route D->C ( instead of Route A->B ) to the Mesh Router.
Security Level:
Google routers have a powerful built-in firewall. The capabilities of this firewall go far beyond the needs of a home network. Technically, it is a stateful firewall and allows only known traffic to enter the network.
Conclusion:
Different tests were performed by WiFiAdviser technical team on Google WiFi Router. Which included 4K streaming interruption test, overall speed testing in high noise and low noise environments. Mesh proprietary capabilities were also tested. In the end, we gave the router a score of 9 out of 10.
By purchasing this router, you will have a very high level home WiFi network . You can expand your network whenever needed just by adding a new Google router. (Without the need for any specialized settings).