What's your primary solution for a weak WiFi network? The first common solution is Relocating and rebooting the router. But it doesn't always solve the problem. You should be familiar with the most practical way to solve the problem.
Generally, the interference issue is the most common reason of WiFi slowing down at all. You can fix the interference issue by changing the WiFi channel to the least crowded one.
Read More : Best Long-Range WiFi Routers
What is WiFi Channel?
A WiFi channel is a small segment of a frequency through which our wireless networks can send and receive data. There are two frequencies available, 2.4Ghz with 14 channels and 5Ghz with 25 channels (but only 8 channels are defined for indoor routers).
What's The WiFi Interference?
Wi-Fi interference is any signal that's not belong to your WiFi Router(s) and reduces your WiFi network overall performance by slowing down, high latency, frequent disconnects and reconnects, and even a complete inability to connect to WiFi network.
Technically, there are two kind of WiFi interference Co-Channel Interference and Adjacent Channel Interference.
Co Channel interference occurs when 2 or more AP's are using the same channel. For example your router and your neighbor's router are on the channel 6 in 2.4Ghz band.
Adjacent Channel interference is more complex, occurs when 2 or more WiFi Routers are on overlapping channels. For example your home/office router is on the channel 1 and you're neighbor's Router is on channel 3 in 2.4Ghz band.
There are 14 channels available In 2.4Ghz band, but only 3 of them are non-overlapping channels(1,6,11). But for 5Ghz band (indoor usage) , there are 8 non-overlapping channels (36,40,44,48,149,153,157,161).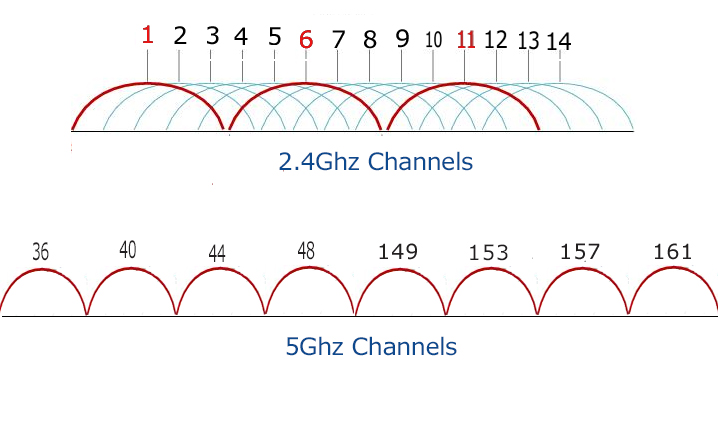 You can find the channel interferences by WiFi analyzer tools: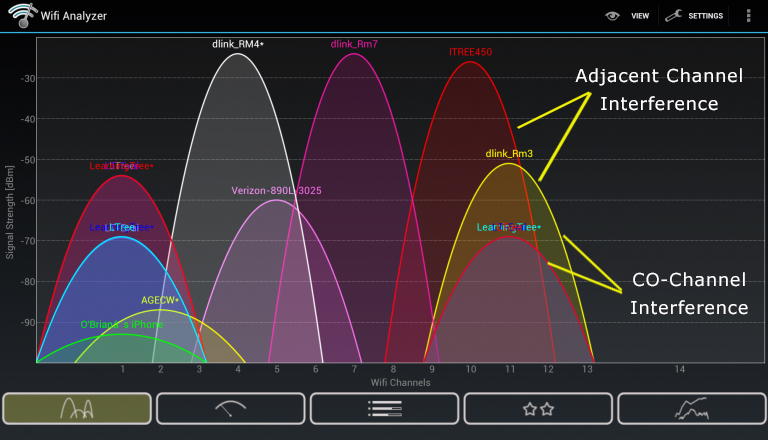 Now that you know the interference and channel concepts, you can use a WiFi-Analyzer tool to find the proper channel for your router. Just check the interference status around your home/office and select a non-overlapped or least-overlapped channel for your router.
Use The Best Channel Option in WiFi Analyzer Tools:
Generally, all WiFi Analyzers tools have an option to offer you the best channel, based on the environment's interference level : Read More : Best WiFi Analyzer Tools