If you are experiencing slow or spotty Wi-Fi at home, one of the possible reasons is that you are using a crowded or overlapping Wi-Fi channel. A Wi-Fi channel is a segment of the Wi-Fi frequency band that your router and devices use to communicate wirelessly. Choosing the right channel can make a big difference in your Wi-Fi performance and reliability.
In this blog post, we will explain what Wi-Fi channels are, how to find the best ones for your router, and how to change them in your router settings.
Overview:
Generally, the interference issue is the most common reason of WiFi slowing down at all. You can fix the interference issue by changing the WiFi channel to the least crowded one.
Finding the best channel for your Wi-Fi router is important for ensuring fast and reliable internet connection. The best channel will vary depending on the surrounding environment and the devices being used.
To identify the best channel, you can use the WiFi analyzer tool that is available on some smart phones or download third-party software on your computer. This tool will help you see which channels are being used by other nearby networks, and which are most congested.
Read More : Best WiFi Analyzer Apps
By optimizing your WiFi channel, you can avoid network interference and enjoy faster, more reliable internet connection at home or in the workplace.
What is WiFi Channel?
A WiFi channel is a small segment of a frequency through which our wireless networks can send and receive data. There are two frequencies available, 2.4Ghz with 14 channels and 5Ghz with 25 channels (but only 8 channels are defined for indoor routers).
Wi-Fi routers operate on two frequency bands: 2.4 GHz and 5 GHz. Each band has a number of channels that can be used by routers and devices to send and receive data. However, not all channels are equal. Some channels may have more interference or overlap with other channels, which can reduce your Wi-Fi speed and quality.
What's The WiFi Interference?
Wi-Fi interference is any signal that's not belong to your WiFi Router(s) and reduces your WiFi network overall performance by slowing down, high latency, frequent disconnects and reconnects, and even a complete inability to connect to WiFi network.
Technically, there are two kind of WiFi interference Co-Channel Interference and Adjacent Channel Interference.
Co Channel interference occurs when 2 or more AP's are using the same channel. For example your router and your neighbor's router are on the channel 6 in 2.4Ghz band.
Adjacent Channel interference is more complex, occurs when 2 or more WiFi Routers are on overlapping channels. For example your home/office router is on the channel 1 and you're neighbor's Router is on channel 3 in 2.4Ghz band.
There are 14 channels available In 2.4Ghz band, but only 3 of them are non-overlapping channels(1,6,11). But for 5Ghz band (indoor usage) , there are 8 non-overlapping channels (36,40,44,48,149,153,157,161).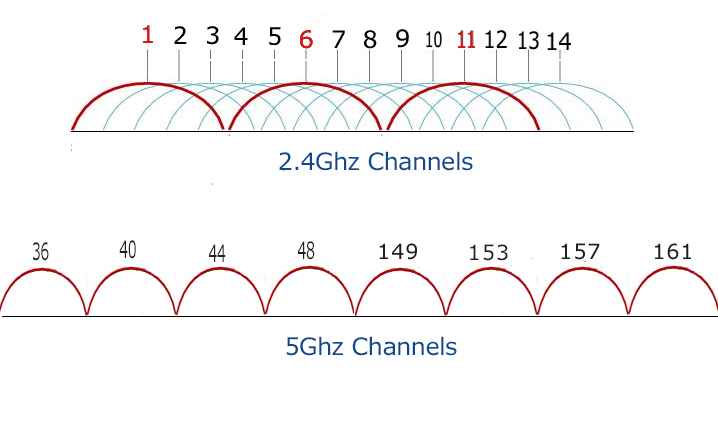 You can find the channel interferences by WiFi analyzer tools: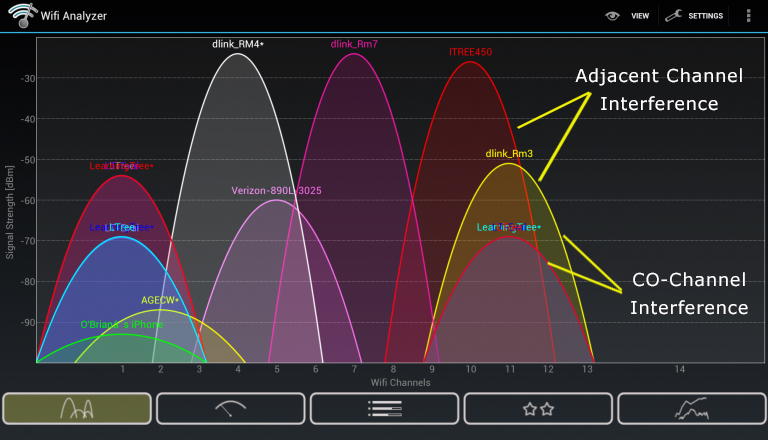 Now that you know the interference and channel concepts, you can use a WiFi-Analyzer tool to find the proper channel for your router. Just check the interference status around your home/office and select a non-overlapped or least-overlapped channel for your router.
How to Find the Best Channel?
The best Wi-Fi channel for your router depends on several factors, such as the distance from your router, the type and number of devices connected, the layout of your home, and the presence of nearby networks or sources of interference.
To find the best Wi-Fi channel for your router, you can use a Wi-Fi scanner tool that analyzes the wireless signals in your area and shows you which channels are the most crowded or overlapping. Some examples of Wi-Fi scanner tools are. They also have an option to offer you the best channel, based on the environment's interference level : Read More : Best WiFi Analyzer Tools
These tools can help you identify the best channel for each frequency band based on the signal strength, noise level, and channel utilization. You can also see how many networks are using each channel and how they affect your Wi-Fi performance.
Alternatively, you can test each channel manually by changing it in your router settings and running a speed test to see how it affects your Wi-Fi speed and quality. You may need to repeat this process several times to find the optimal channel for your router.
Conclusion
Choosing the best channel for your Wi-Fi router can help you improve your Wi-Fi speed and quality by avoiding interference and overlap with other networks or devices. You can use a Wi-Fi scanner tool or test each channel manually to find the optimal channel for each frequency band. You can also change other wireless settings that can affect your Wi-Fi performance, such as SSID, password, security mode, and bandwidth.