In today's modern office setting, having a good WiFi connection is of utmost importance. However, with so many WiFi routers available in the market, it can be quite daunting to choose the best one for your office. In this post, we will be discussing some factors that you should consider when choosing an office WiFi router.
Difference Between Home and Office WiFi Routers
office WiFi routers are designed with the needs of a larger scale and more demanding environment in mind, providing increased coverage, security, management capabilities, and reliability compared to home WiFi routers.
Since most office users use portable devices like laptop, smart phones, tablets, the existence of a highly stable wireless network is more important than a wired network. They also need high-speed connection to the wired network servers.
Keep in mind that an office router has some differences from a home router. Including the Number of users, number of LAN/WAN ports, security features and link aggregation capability. Here are some tips on how to choose the best office WiFi router:
Specifications:
Up to now, 7 technologies have been introduced in WiFi networks. These standards are listed in the following image: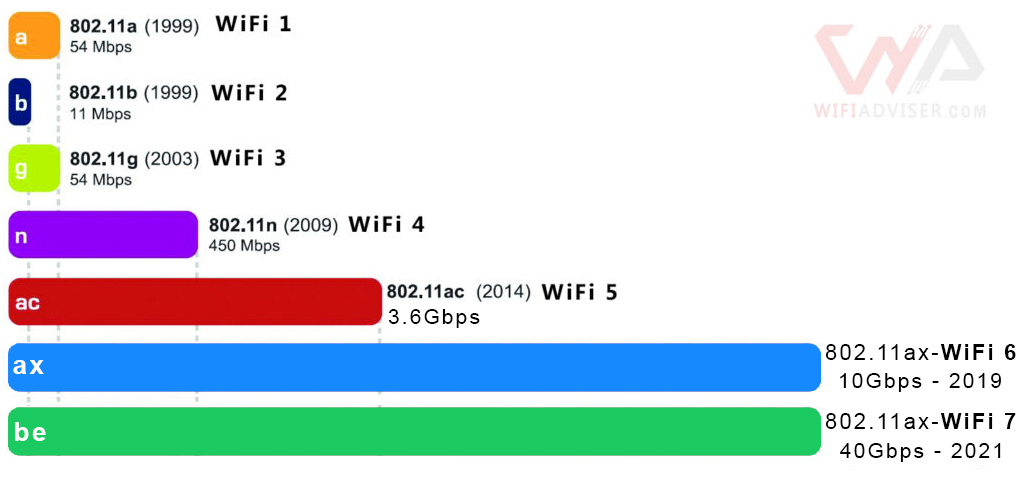 In general, the 802.11n standard is the most widely used technology in WiFi networks. The 802.11ac is the fastest technology in WiFi networks. (The 802.11ax standard has recently been introduced and compatible clients are not available everywhere). The 802.11ac technology has two generations, known as Wave1 and Wave2.
Wave1 with the maximum speed of 1300Mbps and Wave2 with the maximum speed of 3600Mbps. So, it's better to use an 802.11ac Wave2 standard router.
Dual-band or tri-band router:
Dual-band routers offer both 2.4GHz and 5GHz frequency bands, which can provide more flexibility and options for connecting devices. Tri-band routers have an additional 5GHz band, which can help manage heavy network traffic more efficiently.
The Number Of Router's Antenna
Technically, the number of antennas on the wifi router has a tremendous impact on the quality of client's communication. Enables the router (especially the 802.11ac and 802.11ax routers) to use its own capabilities such as Beam-forming and MU-MIMO.
Beamforming focus the router's signal and sending it directly to the client, as a result minimizing the surrounding interferences and increasing the signal strength. Read More : What is Beamforming ?
MU-MIMO allows multiple WiFi devices to simultaneously receive multiple data streams.
The Number of LAN/WAN Ports
Consider the number of wired devices you have in your office that require a direct connection to the router. Ensure that the router has enough Ethernet ports to accommodate these devices. Generally, most wifi routers are equipped with up to 4 ports to communicate with the wired network and servers, along with one WAN port for the Internet communication. The speed of most router's LAN ports is 1Gbps.
New routers, equipped with a Multi-Gig LAN/WAN port. The speed of this port is 2.5Gbps. Keep in mind that to benefit from this speed , you should connect this port to a Multi-Gig compliant port.
Read More : Routers Equipped with Multi-Gig Ports.
Some routers have two specific ports with the Link Aggregation capability. These two ports are integrated as one logical port and made a 2Gbps LAN port, for serving the high-bandwidth required servers like file servers, storages, data-base servers. All business wifi routers should support this capability.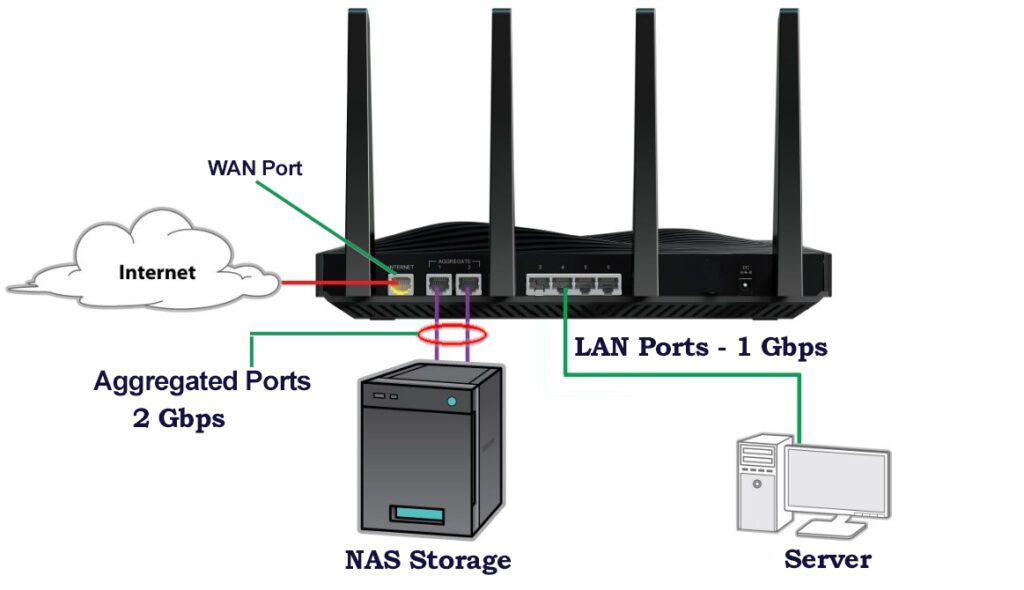 USB ports let you connect external storage devices, printers, cameras, etc., to the router with a USB cable. USB ports can be used for sharing printers, flash disks or media storage. USB ports can also support different speeds, such as USB 2.0 ,USB 3.0, USB 3.1 or USB 3.2. You should look for routers that have USB ports if you want to use these features, and that support the highest speed that your devices can handle.
Features:
Internet speed requirements:
Consider the internet speed you need for your business operations. Check your current internet plan and choose a router that can handle the maximum speed provided by your internet service provider (ISP).
Look for routers with advanced security features such as WPA3 encryption, virtual private network (VPN) support, and firewall protection. These features will help protect your office network from potential cyber threats.
Office WiFi routers are designed to handle a larger number of simultaneous users compared to home WiFi routers. They are built to accommodate many employees, clients, and devices connected at the same time.
QOS and traffic-Shaping Features :
Advance wifi routers have specific capabilities to manage the services and users bandwidth separately.
QoS allows you to prioritize certain types of internet traffic, such as video conferencing or voice calls, over others to ensure smooth and uninterrupted performance.
The Traffic-Shaping capabilities you can assign a certain amount of bandwidth to one or a group of users.

For example, you can assign 5Mbps bandwidth for each client or

20Mbps

bandwidth for a group of clients. You can assign these limitation to clients' devices based on the their IP or MAC addresses.

Adjustable Output (Transmit) Power:
In advanced office routers, you are able to set the router's output power(TX Power) between 17 and 25dbm ( the wireless output power is measured in dbm) depending on the extent of the workplace and the existing obstacles and walls.
This value should be adjusted carefully so that all users have a RSSI around -65dbm. (RSSI means the received signal level at a certain point. This number can be between -30dbm and -85dbm. You can measure the RSSI at a certain location by WiFi Analyzer free apps) .
Keep in mind that increasing the router's output power may cause users to lose quality in communication. So, try to choose the right amount for this option and avoid unnecessarily increasing it.
Brand reputation and customer support:
Choose a reputable brand that offers good customer support. This will ensure that you can receive assistance if you encounter any technical issues or require future upgrades.
Reliability and Redundancy:
Office WiFi routers often have built-in redundancy features to ensure continuous network connectivity. They may have failover options, redundant power supplies, or support for multiple ISPs to minimize downtime in case of a network failure.