Introduction:
If you're tired of dealing with slow internet speeds, spotty WiFi connections, and outdated routers, it might be time to upgrade to a new WiFi router. And the TP-Link Deco M5 might just be the answer.
This WiFi router boasts high-speed connections, wide coverage, and a sleek design that's easy to set up and use. With advanced security features, the Deco M5 can keep your data safe and secure from potential threats.
What's even better is this router is designed to work seamlessly with smart home devices and voice assistants like Alexa and Google Assistant. You can easily connect and control your smart home devices with just a few taps on your smartphone.
Overall, the TP-Link Deco M5 is a reliable and efficient WiFi router that offers incredible speeds, wide coverage, and advanced security features. So if you're in the market for a new router, this is definitely one to consider.
What is TPLink Deco M5 WiFi Router?
The Deco router is a series of tp link routers with very special hardware and software capabilities that can create high-quality and seamless WiFi network for your home or workplace. Several deco tp link routers can work together and implement a WiFi Mesh network in which WiFi Roaming occurs perfectly.
What is WiFi Roaming?
When it comes to large (multi-router) WiFi networks, roaming will be the most important issue. This problem usually happens in large networks that have more than one router.
Roaming happens when a user moves from one router's coverage area to another router's coverage area in a WiFi network. When the user leaves the area covered by one router, the WiFi connection is interrupted for a moment, and when he enters the area covered by another router, the WiFi connection is Re-established again by that router.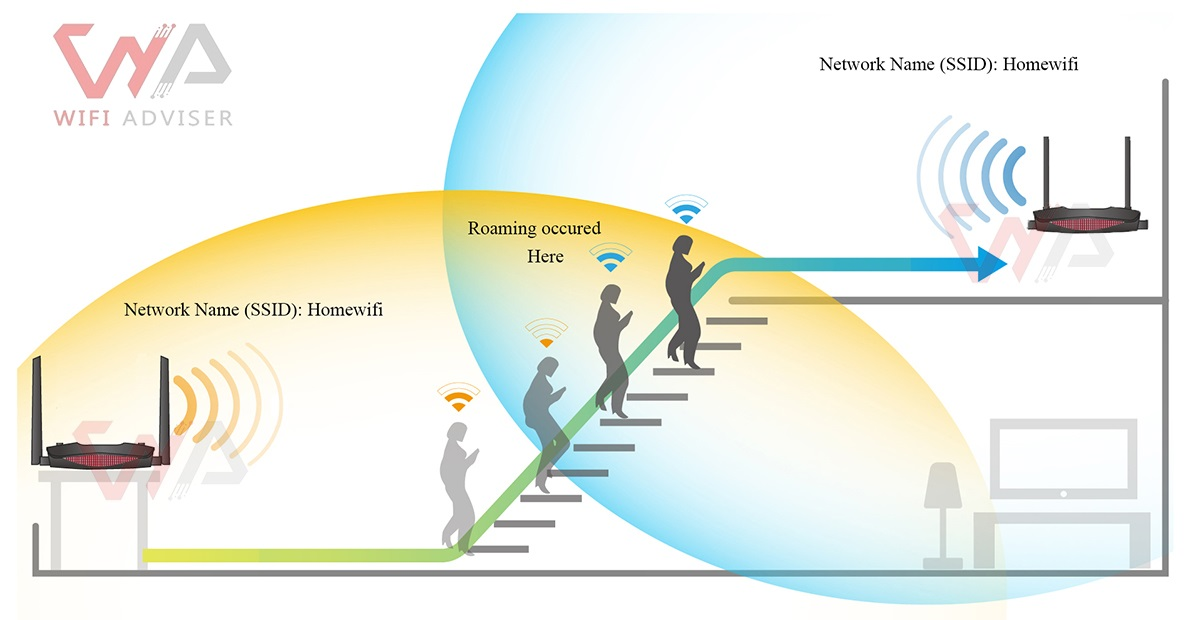 What is WiFi Roaming Problem?
The main problem is that when roaming occurs, the client's connection with the WiFi network is disconnected and reconnected for a moment, however short. In this case, if you are making a video call, your sound and video will be interrupted for a moment and then come back again. But if the Re-connection takes a little longer than usual, your connection may be completely disconnected and you will have to call again…!
In WiFi networks compatible with Mesh Technology, the user moves between routers without interruption. Neither the user nor the programs in use will notice the movement between the routers. As a result, there will be no interruption in communication.
Read more : What is WiFi Roaming ?
What is Mesh Network ?
Mesh WiFi network consists of several routers that act as a single network. In this system, one router acts as the Main Router (Mesh Router) and several routers act as Mesh Points (Satellites). The main router is connected to the modem (internet) using the network cable. All satellites are connected to each other wirelessly and create several paths (routes) to the Mesh Router.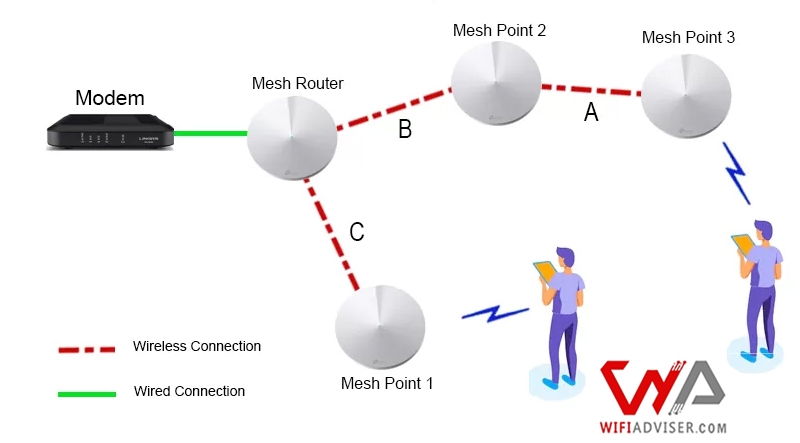 The Mesh system intelligently controls and manages the entire network and communication paths (Routes) between Mesh Points and the Mesh Router. It also chooses the best path (Route) for user communication to the Mesh Router.
TPLink Deco M5 Mesh Technology:
Many companies have used this technology on their routers and tried to achieve the highest quality level of this technology by making innovative changes to their routers. TP-Link company has a proprietary mesh technology called OneMesh. Which has two special features :
Whole-Home Mesh System :

OneMesh provides whole-home IoT coverage with WiFi, Bluetooth and Zigbee integrated into a single system. You have an integrated smart home network in every rooms and don't need to use multiple hubs for different technologies.

Self -Healing :

When one of the mesh points fails or its communication quality decreases, the communication routes change quickly and users are connected through another route. Look at the picture below, here the Mesh Point 2 fails and the mesh system intelligently sends the users' traffic from the Route D->C , ( instead of Route A->B )  to the Main Router .
Parental Control &

QoS:

This company pays special attention to the control of family members in the internet . You can define separate profiles for each family member and give them permission to access certain sites and content. Also you can limit the working hours and duration of each one's activity on the Internet. With QoS capability, you can define the bandwidth of each device separately and allow them to use more bandwidth.
Conclusion

:

our technical team has performed Different tests on TPlink Deco M5. Which included mesh network stability test, mesh network handover speed test, 4K streaming interruption test, overall speed test in high noise and low noise environments.In the end, we gave the router a score of 9 out of 10.

By purchasing this TPLink WiFi router, you will have a very professional home WiFi network . You can expand your network whenever needed just by adding a new Deco tp link router. (Without the need for any specialized settings).