Introduction:
Port forwarding is a technique of forwarding traffic from one internet connection to internal network. This is useful when you have a device or service that needs to be accessed remotely, but it is hidden behind a network's firewall. In simple terms, it is like creating a pathway to allow outside traffic to reach the device.
Port forwarding aids in simplifying remote access, online gaming, and hosting services. However, it is essential to note that opening ports can leave your device vulnerable to malicious activities. Therefore, it is recommended to use it with caution and configure appropriate security measures such as firewalls and password protection.
This technique is most commonly used to make services on a host residing on a protected internal network available to hosts on the Internet (external network). By remapping the destination IP address and port number of the communication to an internal host's IP Address and Port Number.
Overview:

Port Forwarding can be a powerful tool for providing access to services on a network, but it requires careful configuration to ensure security is maintained. Improper configuration can leave a network vulnerable to attack or misuse.
To do this, you will need to configure port forwarding in your router. This involves forwarding specific ports to the device's IP address where the service is running. For example, if you want to remotely access a game server running on your network, you need to forward port 80 (HTTP) or 443 (HTTPS) ( and other required ports) from your router to your game console.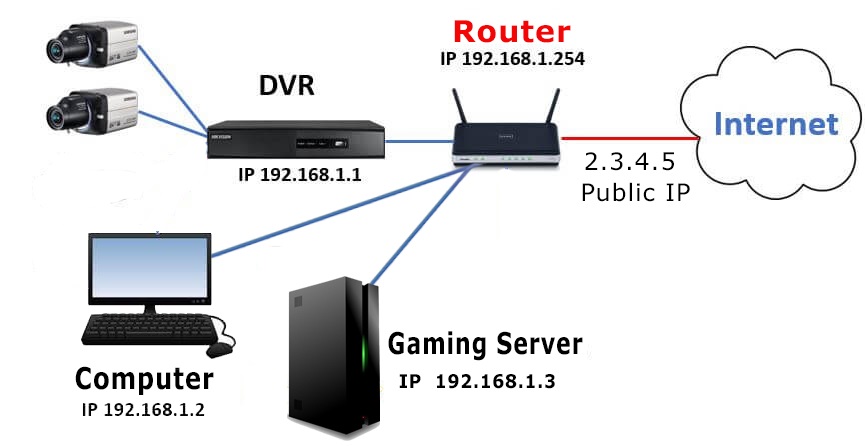 Why You Need Port Forwarding?
Port forwarding is a applicable way to protect servers, clients and devices from unwanted access from the internet. It hides the Internal network services and servers from the outside world, and limit access to them from the internet.
It is transparent to the end user and adds an extra layer of security to networks. See Also : Best Home WiFi Router.
Technically, port forwarding is used to keep unwanted traffic off networks. It allows you to use one IP address for all external communications on the Internet while dedicating multiple servers and devices with different IPs and ports to the task internally.
It can be useful for home network users who may want to access their internal network's devices from the internet, like surveillance system, or running a Web server or gaming server on one network.
Read More : WiFi Network Security Tips.
How does port forwarding work?
In the simplified example below, a remote computer (81.16.22.43) sends a request to 2.3.4.5 on port 801 (which is defined and mapped to port 8010 for 192.168.1.1, in the router's forwarding table).
Then the Router intercepts the request(packet) and rewrite the header and send it to 192.168.1.1 on port 8010 (instead of 801) , with 192.168.1.254 (the router's Internal IP Address) as sender's IP Address.
In the opposite direction, the 192.168.1.1 answer's (response) the request to 192.168.1.254 (the router's Internal IP Address) on port 8010 . Then the router rewrite the header and send it to 81.16.22.43 on port 801 (instead of 8010) , with 2.3.4.5 (the router's External IP Address) as sender's IP Address.
Now, the remote computer has never actually touched the internal server's real IP Address and Port Number. Because of the way the packets have been rewritten, 81.16.22.43 sees that it has gotten a response from 2.3.4.5.
Port Forwarding Configuration Page

Read More : What is Dynamic DNS ( DDNS )