As an internet user , you may want to access to your home or office servers , computers , cameras and other devices through the internet for Tele-Working ,accessing your surveillance system or any other purposes. In such situations, you should have a Static IP Address or using DDNS service.
First, You Should Be Familiar with DNS and IP Address Concepts
Every internet resources like Web Pages, FTP sites and online servers have an IP address which is unique. There are two versions of the IP Addresses, IPV4 and IPV6.commonly,
the internet resources are using IPV4 which is consisted of 4 numbers between 0-255 like 61.246.132.7 , for example the Facebook's IP Address is 69.63.176.13 and YouTube's IP Address is 208.65.153.238.As you see , these numbers are not easy to remember.
The DNS is a service/system (stands for Domain Name System) and working as an intermediate between the internet user and internet resource to simplify the access operation. In DNS system, each internet resources can have a human-friendly name, like Facebook and YouTube along with their IP Addresses. Then, the DNS makes a mapping list for human-friendly names and IP Addresses.

Now, whenever you type a website name like Facebook.com , the DNS service starts it's operation and "Resolve" the website name to corresponding IP Address . After finding the relevant IP address from the DNS list, sends your request to the internet.
What is DDNS and how does it work?
Today, due to the increase in smart home services and video surveillance systems, it is necessary for you to be able to access the internal network of your home or workplace through the Internet from wherever you are.
For this purpose, you should either buy valid IP from your ISP for your home or office internet service or use DDNS service.
As I have mentioned earlier, every internet resource need to have an IP Address to be accessible on the internet. Your home router need to have an IP Address as an internet node too. Generally, the home router's IP Addresses are not static and constantly changing by your ISP.
It means you may have the 172.17.12.2 as your IP Address for today and 172.17.131.98 for tomorrow. So, you cannot use such a changing IP Address for your remote working purposes.
'Dynamic DNS' (DynDNS) stands for Dynamic Domain Name System (also known as 'DDNS'). This helps you to MAP your home router's constantly changing IP addresses to a fixed domain name. Then you can use this name instead of IP address for every services you need.
How to Register DDNS Name ?
You should register with a DDNS service and choose an available name (such as mynetwork.example.com). Your router and network devices are always available via this unique address, even if you don't know their current IP addresses.
Read More : How to Access our WiFi Router's Web Console?
DDNS Providers:
There are many companies for DDNS service, here is a list of free services:
One of the most popular and professional DDNS providers, with both free and premium accounts.
Dynu is a flexible DDNS provider , you can have your own domain for top-level domain. You can have a free or premium account , but the interesting point is that, even with the free account you can obtain a SSL certificate to increase your connection's security level.
DuckDns is a simple DDNS service. It uses AWS (Amazon Web Services) infrastructure, and you can sign up for free using your Google, Reddit, Twitter, GitHub, or personal account.
NO-IP is a popular DDNS service with free and premium accounts, almost all routers support this provider.
DynDNS is a premium-based DDNS service and the free account is too limit.
Router's Dynamic DNS configuration page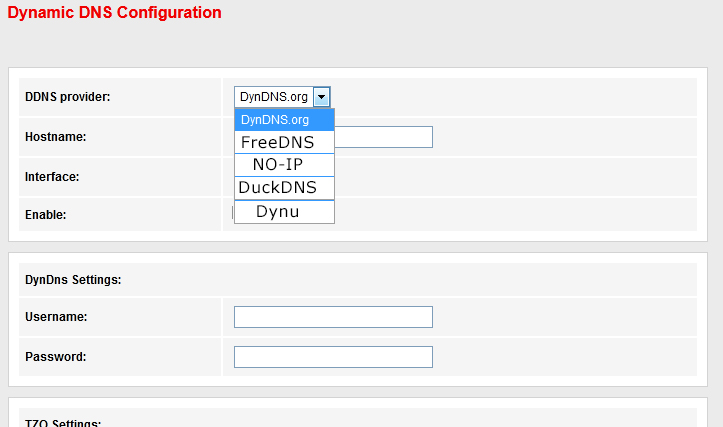 How to Use?
Firstly, check your router's DDNS configuration page(Typically this will be under Advanced and then DDNS or Dynamic DNS) to find the compatible DDNS providers (As you can see in the picture above).
Then you should create an account on the relevant web site and register your "Host-Name" with your chosen domain(from available domain names). Then you should enter your account information in the router's configuration page.
no-ip DDNS provider , account creation page