Dynamic DNS (Domain Name System) is a method of automatically updating the IP address registered to a specific hostname or domain name. It allows a device or computer on a network to have a domain name assigned to it, which is more human-friendly than its IP address.
This is useful for users who want to access their home computers, automation system, cameras, servers, or other devices remotely, but do not have to buy a valid (Fixed) IP address. With dynamic DNS, they can assign a hostname or domain name to their dynamically changing IP address, allowing them to access their devices using a consistent, easy-to-remember address.
Keep in mind that all Internet providers usually use a dynamic IP for subscribers, which changes periodically, unless you buy a static IP (Valid).
How DNS Works?
DNS (Domain Name System) is a hierarchical decentralized naming system used to convert human-readable domain names, like www.wifiadviser.com, into IP addresses, which computers use to identify each other on the internet.
When you input a URL into a web browser, your device first checks the cache (memory) to see if it has a previously resolved IP address for that domain. If it doesn't find a match, the following steps are started by the DNS Resolver : 
Step 1: 

The DNS resolver starts the lookup process by sending a query to the root DNS servers, which are the highest level of DNS servers. 

Step 2:

The root DNS servers respond with a referral, indicating the top-level domain (TLD) DNS server responsible for the specific extension ( .com / .org / . net , …) of the domain name.

Step 3:

Step 4:

Finally, the resolver receives the IP address from the authoritative DNS server and sends it back to your device. Your device can then establish a connection to that IP address, allowing you to access the website you initially entered.

Your device saves this response in the cache memory to use it for future reference.
What is DDNS and how does it work?
In a standard DNS setup, a domain name is associated with a fixed IP address. However, in many cases, the IP address of a computer or device can change due to various factors such as dynamic IP assignment from an Internet Service Provider (ISP) or mobile devices switching between different networks.
Dynamic DNS solves this problem by offering a way to automatically update the IP address associated with a hostname or domain name when it changes. A dynamic DNS service provider tracks the IP address changes and keeps the DNS records updated in real-time.
'Dynamic DNS' (DDNS/DynDNS) stands for Dynamic Domain Name System, This helps you to MAP your home router's constantly changing IP addresses to a fixed domain name.
How to Register DDNS Name ?
You should register with a DDNS service and choose an available name (such as mynetwork.example.com).There are many companies for DDNS service, here is a list of free services:
Read More : How to Access our WiFi Router's Web Console?
One of the most popular and professional DDNS providers, with both free and premium accounts.
Dynu is a flexible DDNS provider , you can have your own domain for top-level domain. You can have a free or premium account , but the interesting point is that,  even with the free account  you can obtain a SSL certificate to  increase your connection's security level.
DuckDns is a simple DDNS service. It uses AWS (Amazon Web Services) infrastructure, and you can sign up for free using your Google, Reddit, Twitter, GitHub, or personal account.
NO-IP is a popular DDNS service with free and premium accounts, almost all routers support this provider.
DynDNS is a premium-based DDNS service and the free account is too limit.
Firstly, check your router's DDNS configuration page(Typically this will be under Advanced and then DDNS or Dynamic DNS) to find the compatible DDNS providers (As you can see in the picture below).
Router's Dynamic DNS configuration page
Then you should create an account on the relevant web site and register your "Host-Name" with your chosen domain(from available domain names). Then you should enter your account information in the router's configuration page.
no-ip DDNS provider , account creation page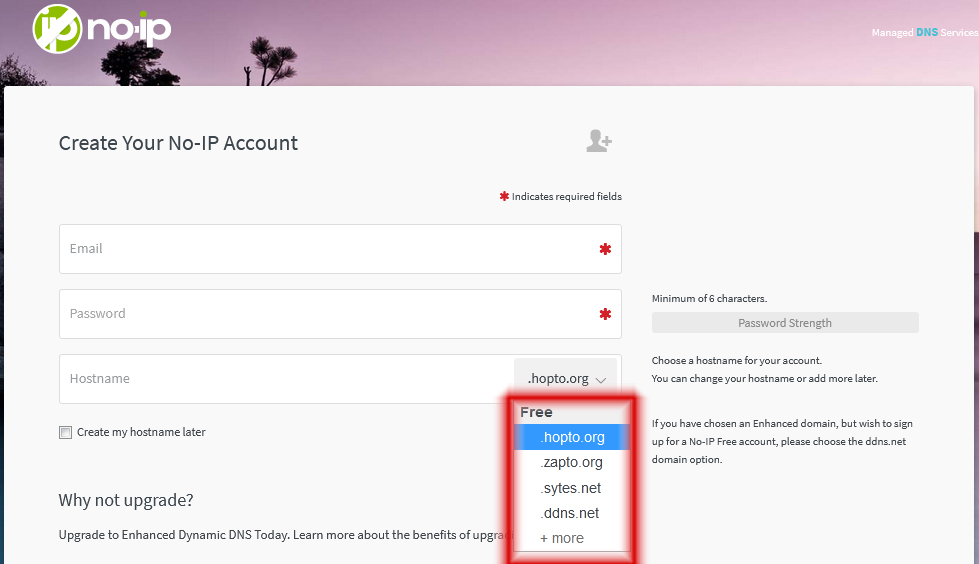 Conclusion:
DDNS is commonly used for remote access, home servers, gaming, and other applications that require a stable domain name regardless of the changing IP address. If you have a little technical knowledge, this service can be a very suitable alternative to buying a valid IP