WiFi is the most widely used wireless communication technology in the world today. It enables us to connect to the internet and other devices without using physical cables. One of the crucial concepts in WiFi networking is "channels". In simple terms, a WiFi channel is a frequency band in which the data is transmitted between the router and the device. However, the channel width plays a critical role in wireless network performance and user experience,Which is the amount of spectrum used to transmit data..
Therefore, it is highly recommended to have a thorough understanding of both concepts to optimize wireless network performance. Try to choose channels with fewer devices, avoid using heavy duty applications in a crowded network, or use 5GHz Wi-Fi, as it usually has a more significant channel width compared to 2.4GHz.
What is WiFi Channel?
WiFi channels are the small segment of frequencies that your wireless router uses to send and receive data between your devices and the internet. Different channels operate on different frequencies, with some providing faster speeds and less interference than others. By choosing a different WiFi channel, you can improve your wireless connection speed and stability.
There are 14 channels available in 2.4GHz frequency band (From channel 1 to channel 14). But for technical reasons , Only 3 channels (1,6,11) are Non-Overlapping (More efficient).
There are 25 channels available in 5GHz frequency band , But only 8 channels are defined for indoor usage.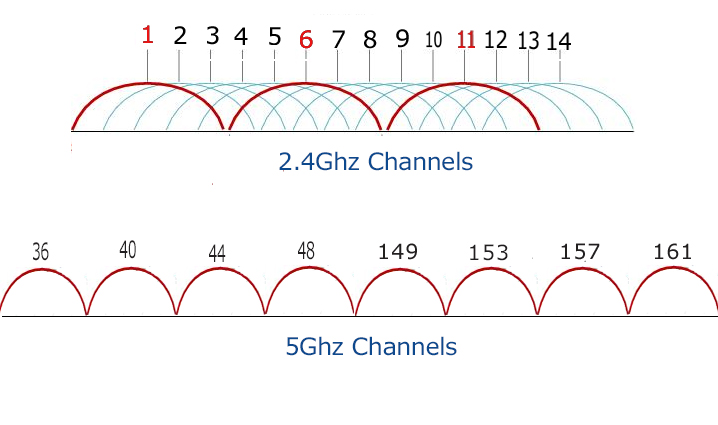 What is WiFi Channel Width?
Channel width, on the other hand, refers to the size of the channel your router is using to transmit data. Generally, a wider channel width can provide faster performance as it allows more data to be transmitted at once. However, wider channels can also cause more interference with nearby WiFi networks, so it's important to choose the right channel width for your particular environment to ensure optimal performance and compatibility with other nearby networks.
Basically , each frequency bands ( 2.4GHz or 5GHz) has a specific allowed range to be use in WiFi networks. For technical reasons,  the standard organizations have divided these range to channels (14 channels in 2.4GHz and 25channels in 5GHz frequency bands) , each with specific broad, which is known as Channel Width.
In 2.4GHz band , each channel has 20 MHz width , but in 5GHz , each channel can have 20,40,80 or 160 MHz width. The width of WiFi channel determines how much data can pass through the channel  in a period of time.
Suppose the channel as a highway and the channel width as highway's width. The wider the highway, the more traffic (data) can pass through. By increasing the channel width, we can increase the speed and throughput of WiFi network. ( Read More : WiFi Standards Chart )
Which channel width should I use?
In theory, the wider channel provides more bandwidth, but you should consider the effect of interferences and devices compatibility. Now that you know the channel and channel width concepts, we can make a right decision for channel width selection.
When to use 20 MHz channel width?
A 20 MHz channel width is typically used when there is a high density of devices or interference in the surrounding environment. It provides better throughput performance and can help in reducing interference from neighboring networks.
Use 20 MHz channel width in 2.4GHz band, in such cases :
When you have a 2.4GHz-only router.
When you have legacy client devices.
If you have high interferences around you.
When you want to have maximum coverage.
With 20 MHz channel-Width in 2.4GHz  band, you will have 3 non-Overlapping channels(1,6,11).
Use 20 MHz channel width in 5GHz band, in such cases :
When you want to have maximum coverage.
When you want to deploy WiFi network in a high-density environment.
With 20 MHz channel-Width in 5GHz band , you will have 8 non-Overlapping channels(36,40,44,48,149,153,157,161).
When to use 40 MHz channel width?
40 MHz channel width is typically used to increase the data transmission rate. It allows for wider frequency bands to be utilized and can provide higher throughput compared to the standard 20 MHz channel width.
The 40 MHz channel Width is created  by Bonding two 20 MHz channels, commonly used in 5GHz band. The 40 MHz channel Width enables you to improve performance compared to 20 MHz channel width.
However, it is important to note that using a 40 MHz channel width also consumes a larger portion of the available spectrum. This can lead to potential interference issues, particularly in densely populated areas where multiple Wi-Fi networks are operating in close proximity. It is recommended to only use 40 MHz channel width when there is minimal interference and a relatively clear wireless environment.
Before setting your router to 40 MHz Channel Width , check the interference level by WiFi-Analyzer tools to find the least-crowded channel.
With 40 MHz channel-Width in 5GHz band , you will have 4 non-Overlapping channels(38,46,151,159).
When to use 80 MHz channel width?
You should use an 80 MHz channel width in Wi-Fi networks when you have ample available spectrum and want to provide higher data rates and faster performance. However, there are a few considerations to keep in mind:
Interference:

Using a wider channel width can increase the likelihood of interference from other nearby networks or devices. It is important to ensure that there is minimal interference in the environment before using an 80MHz channel width.

Compatible devices:

Not all devices support 80 MHz channel widths. Older devices or devices that do not support the 802.11ac Wi-Fi standard may not be able to connect or benefit from the wider channel width.

Channel availability:

An 80 MHz channel width requires a larger chunk of available spectrum. In crowded or dense areas with limited available channels, it may not be feasible to use 80 MHz widths without causing interference to neighboring networks.
The 80 MHz channel Width is supported by WiFi5 (802.11ac) and WiFi6 (802.11ax) devices, with only 2 non-overlapping channels. So, increases the possibility of interference. Consider in mind, due to technical reasons, the clients should be close to the router to take advantage of 80 MHz channel width. Typically , the 80 Mhz is using for Mesh-backhaul and bridging between routers.
With 80 MHz Channel-Width, you will have 2 non-Overlapping channels(42,155).
When to use 160 MHz channel width?
The real 160 Mhz channel-width is introduced in 802.11ac (WiFi5) and optimized in 802.11ax (WiFi6) technology, with only 1 non-overlapping channel. We should wait for the technical grow in both routers and clients to be able to use that. Read More : WiFi6 Technical Specifications.
The 160 MHz channel width is typically used in high-density environments where there are very few neighboring WiFi networks operating on the same frequency band. It allows for higher data throughput and faster wireless connections than narrower channel widths.
However, it is important to note that not all devices support 160 MHz channel width, and it requires a wide channel space to operate without causing interference to neighboring networks. Therefore, it is mainly suitable for advanced home or small business environments with few nearby Wi-Fi networks.
In addition, using this channel width may reduce the range and coverage area of the wireless network. So, it is not recommended to use it in larger areas or environments where coverage is a priority.
The decision to use 160 MHz channel width should be based on factors such as the density of neighboring Wi-Fi networks, device compatibility, range requirements, and available frequency spectrum.