WiFi6 is the most recent generation standard in WiFi technology. This standard also known as "802.11ax" and faster than 802.11ac (WiFi5) standard ( Take a look at WiFi Standards Brief Explanation ). More than speed, it will provide better performance in congested areas, like stadiums. WiFi6 was originally built in response to the growing number of devices in the world.
Technically, WiFi6  is the successor to the WiFi5 (802.11ac) standard and operates in the 2.4 GHz and 5 GHz spectrums.  This standard enables devices ( WiFi Routers / Clients ) to send more data in one transmission stream, resulting in speed improvements of up to 20% to 40%  with higher order modulation (1024-QAM). Higher order modulation increases the efficiency and speed of data transmission on your network.
The 2.4Ghz band is available in WiFi6 standard, while the industry has shifted to 5GHz WiFi for less interference. 2.4GHz is still better at penetrating solid objects. And there shouldn't be as much interference for 2.4Ghz as old wireless (non-WiFi but 2.4 Ghz) equipment like cordless telephones and wireless baby monitors are retired.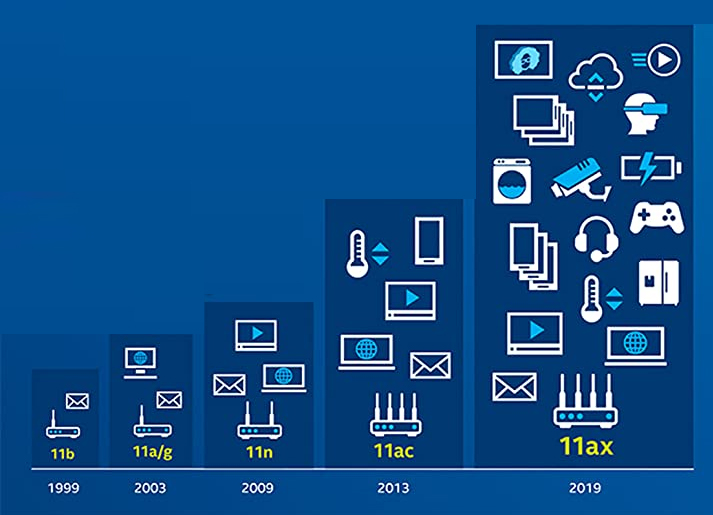 WiFi6 Technical Specifications:

If you're using a WiFi6 Router (Modem) with a single client, maximum potential speeds should be up to 40% higher compared to WiFi 5 router. WiFi6 technology accomplishes this through improving :
The number of spatial streams
Guard interval and symbols
Encoding scheme
Number of valid subcarriers
There is one Spatial Stream for each WiFi Router 's antenna, if your Access point has 4 antennas , you have 4 spatial streams . Technically, the spatial streams can be used to increase the throughput or to increase the quality.
| | |
| --- | --- |
| 802.11 Standard | Maximum Number of Spatial Streams |
| 802.11n | 4 |
| 802.11ac | 8 |
| 802.11ax | 8 |
2- Symbol and guard intervals(GI):
Symbol is the transmission signal in the time domain and Guard Interval (GI) is a gap between two adjacent symbols to avoid interference with each other.
Symbols:
| | |
| --- | --- |
| Before 802.11ac | 802.11ax |
| 3.2 us | 12.8 us |
Guard Interval (GI):
Before 802.11ac
802.11ax
0.8 us
0.4 us (Short GI)
0.8 us
1.6us (2*GI)
3.2 us (4*GI)
3- Encoding Scheme :
The encoding scheme is the modulation technology, that is, the number of bits that can be carried in a symbol.
| | | |
| --- | --- | --- |
| 802.11 Standard | Higher-Order Modulation | Number of Bits in a Symbol |
| 802.11n | 64-QAM | 6 |
| 802.11ac | 256-QAM | 8 |
| 802.11ax | 1024-QAM | 10 |
4- Number of valid subcarriers:
Carriers are similar to symbols in the frequency domain. One subcarrier carries one symbol, and the number of subcarriers varies according to the modulation mode and frequency bandwidth.
    Number of valid subcarriers
Frequency Bandwidth
802.11n
802.11ac
802.11ax
HT20
52
52
234
HT40
108
108
468
HT80
–
234
980
HT160
–
2 x 234
2 x 980
in conclusion , maximum data rate of 802.11ac standard is 433Mbps and maximum data rate of 802.11ax is 600Mbps, with 1 Spatial Stream at HT80.

Read More : Where to Place WiFi Router? and What is WiFi Channel and Channel-Width?
WiFi 6 Technology Features:
OFDMA Technology: This feature enables your WiFi Router and devices to use your bandwidth more efficiently by allowing the access points to serve multiple clients at the same time (unlike OFDM which serves one client at the same time).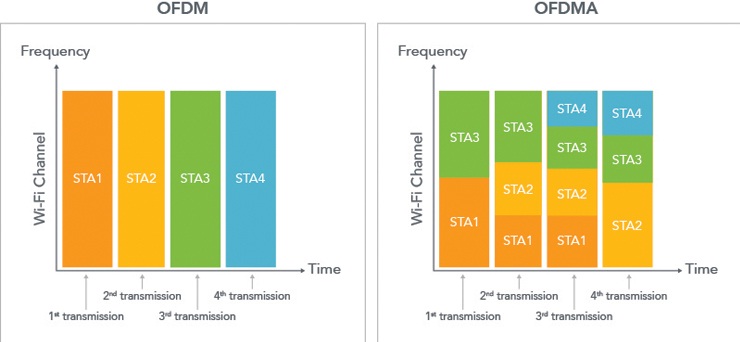 Improvements by 8*8 MU-MIMO : This technology enables your router to communicate with many devices simultaneously. Wi-Fi 6 also allows 8×8 APs to use all eight streams to transmit information.
Improvements through uplink MU-MIMO: Uplink MU-MIMO allows more of your devices to transmit data to your AP, improving network efficiency.
BSS coloring for spatial re-use: BSS coloring enables devices operating in the WiFi6 standard to differentiate between signals from their own network and signals from other networks. This feature increases the efficiency and capacity of your network.    
Extended battery life for mobile and smart devices with Target Wake Time (TWT): TWT makes communication between your devices and your router's Wi-Fi channels more efficient. Devices that support TWT enter a sleep state until their scheduled wake time. TWT reduces energy consumption and bandwidth use.
6 GHz spectrum: The development of a 6 GHz band in the future (WiFi6E standard) means more unlicensed bands available for high-bandwidth applications.