If you have a large home or office network, you may encounter issues with WiFi Range and can not connecting to your WiFi network from certain points in your home or office. Commonly, this issue is happening due to leakage of wireless signal coverage.
I have explained how to boost ( Extend ) your WiFi network coverage by a few steps in This Post. But if you couldn't solve your problem with these steps, it's time to buy a second WiFi router and add to your network. Please read Best WiFi Router For Home and How to choose Home WiFi Router Posts.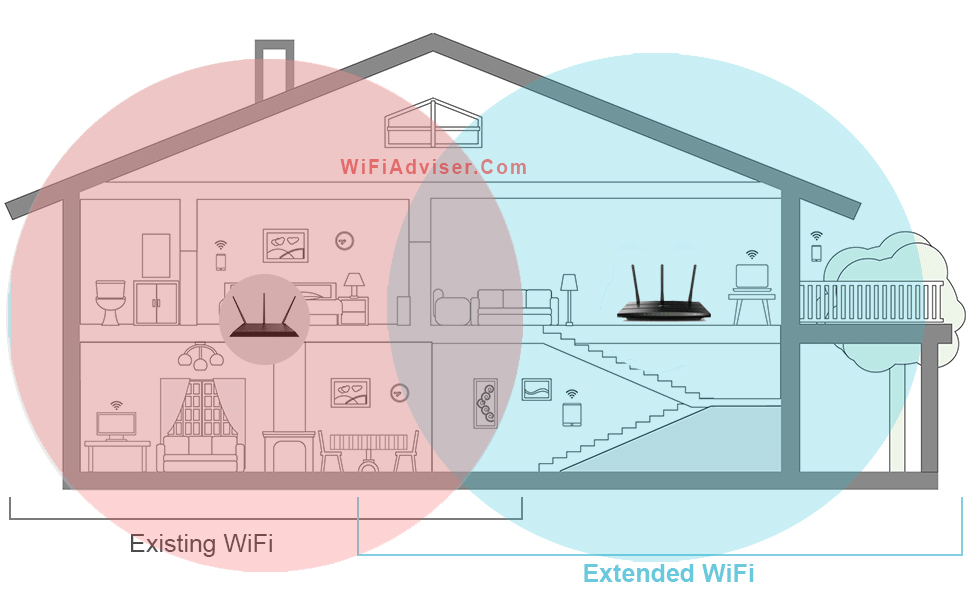 Can Two Routers Be Used on the Same Home Network?
Yes, it is possible to use more than one WiFi Router on the same home or office wifi network, Adding a second WiFi router can help extend WiFi coverage in your home or office for several reasons:
Improved Wireless Coverage:
If you have a large home or office space, a single router may not be able to provide adequate coverage in every corner. By adding a second router, you can extend the WiFi signal to areas that were previously out of range. Adding a second wireless router to an existing WiFi network can extend your overall signal coverage (WiFi Range ) to reach to the far away devices.
Overcoming obstacles:
WiFi signals can be blocked or weakened by obstacles such as walls, furniture, or appliances. Placing a second router in a strategic location can help overcome these obstacles and deliver better WiFi signal strength to the areas affected.
Separate networks:
Adding a second router also gives you the option to create separate networks for different purposes. For example, you can dedicate one router for personal use and another for guests or work-related devices, providing better network security and control.
Support More Devices:
Typically, each WiFi router supports a limited number of ports for wired stations. By adding a new wifi router , you will have more open ports for connecting new computers and other wired stations.
Reduced congestion:
When multiple devices are connected to a single router, the network can become congested, resulting in slower speeds and increased latency. Adding a second router allows you to distribute devices across two networks, reducing the load on each network and improving overall performance.
How to configure the second Router:
Configuring a wifi router to work as the second router requires a few steps :
Determine the location: Find an optimal location for the second WiFi router, ideally in a central area between your existing WiFi router and the areas with weak WiFi coverage. Ensure that there is a power outlet nearby.
Set both routers transmit power option to "Auto".
Disable the second router's DHCP server service.
Change the second router's IP Address , So that it doesn't conflict with first router's IP address. ( It's better to set it to "Auto" to obtain an IP address from first router's DHCP server).
Don't configure any internet connection in your second router, it is configured already on the first router.
Consider in mind, the second router is working in slave-state, it means the internet connection is establishing and managing by the first router, and the second router only acts as a "Extender" .
How to connect routers to each other?
There are a few ways for connection two (or more) routers. You can connect routers wirelessly by the Mesh technology and WDS bridging systems. But it's better to connect your routers by Ethernet (Rj45) cable because the wired connection is more reliable and stable than wireless connection. All you have to do is connect the first router to second router by a Rj45 Ethernet cable from router's LAN ports.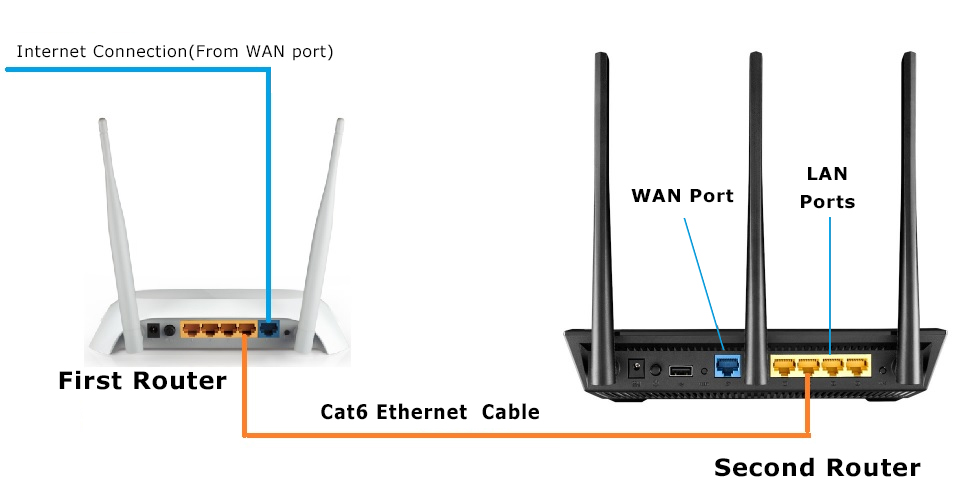 Steps at a Glance:
Adding a second WiFi router can extend the range of your WiFi network, improving connectivity in areas that were previously unreachable. Here are the steps for setting up your second router:
1. Determine the location for your second router: to maximize coverage, choose a location that is central to the areas where you need better WiFi connectivity.
2. Access your primary router: login to your primary router's management interface via a web browser. This might require logging in with a username and password.
3. Connect the second router: use an Ethernet cable to connect your second router to the primary router's LAN port.
4. Configure the second router: access the second router's management interface and configure the network settings, including assigning a different IP address and SSID from your primary router.
5. Position the antennas: ensure the antennas of both routers are oriented correctly for the best signal.
Remember that these steps may slightly vary depending on the specific router model and brand. Consult the user manual or manufacturer's support website for detailed instructions on setting up a second WiFi router as an extender or access point.