What is a long range router?
As technology advances, we increasingly depend on WiFi routers for almost everything. Most people rely on WiFi routers to stream movies, browse the internet, and work from home. Therefore, having a reliable and fast WiFi router with long-range coverage is essential.
Routers that have more coverage than normal routers are called long range routers. These routers have several technical factors that increase their coverage level, including radio power, number and type of antennas, signal booster, etc.
These routers are used in places that normal routers cannot cover, such as large halls, yards or multi-story houses where it is not possible to install several routers.
Usually, the first characteristic that is considered when choosing a wireless router is its coverage strength. Users tend to buy routers that have more coverage, but do all users really need such a router? Definitely not.
Long Range Router vs. Regular Router
From a technical standpoint, there are several differences between a long range and regular router:
Output Power
Long-range WiFi routers usually have a higher power output, resulting in stronger signals. This ensures a better reception even at longer distances or through obstacles such as walls or floors.
The output power of regular router is usually between 100mw(20dBm) and 250mw(23dBm) while in long range wifi router, it's around 500mw(27dBm) to 800mw(29dBm).
Antenna Gain
Normally, the antenna in regular router has a gain of 2dBi (dBi is the unit for measuring antenna strength) while the antenna in long range router has a gain of 5dBi. The higher the gain in an antenna, the larger the size, so you can easily distinguish a 2dBi antenna from a 5dBi one.
Number of Antenna
More antennas on on a router increases the signal strength and overall speed of the router. A long range wifi router serves a high number of users. So, it should have more antennas compared to a regular router to guarantee the connection quality of all users. Regular router has one or two antennas while long-range routers have more than three.
Beamforming Technology
Beamforming is a special technology that greatly increases the coverage and speed of the network. Not all long range routers support this feature but high-level brands use this technology. This technology increases the coverage up to 40%.
Read More : What is Beamforming ?
More Processing Power
Since a long range wifi router covers a larger area than a normal router, it can serve a higher number of users and devices. For this reason, most of them are equipped with a more powerful processor (and memory ) than regular routers.
Interference Handling:
Long-range WiFi routers incorporate advanced interference handling techniques to combat any potential signal disruption caused by other electronic devices or neighboring networks. This ensures a more stable and reliable connection over longer distances.
Cost:
Typically, long-range WiFi routers are more expensive than ordinary routers due to their advanced features and improved performance. The additional technology and components required to achieve the extended range contribute to the higher price.
 

What are the Benefits of long range WiFi Router?
As it's obvious, a long-range router covers more area compared to a regular router. You can cover a large house or office using a long-range router or several regular routers. As you can see below , you can use one Long Range Router to coverage a large house (with more than -65dBm signal level everywhere):
Long Range Router Coverage: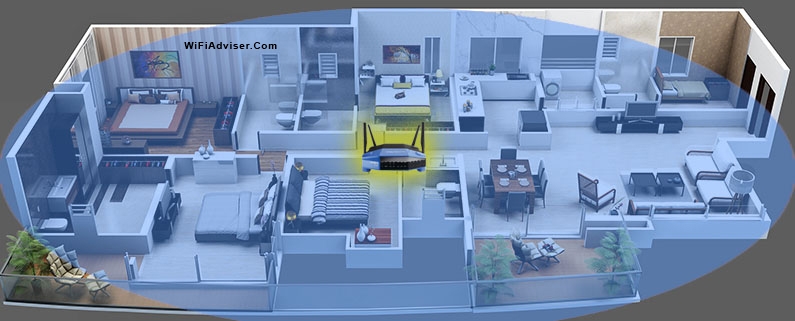 You can also use two or more regular routers instead of using one long-range router to cover this house,  but consider in mind :
Routers may interfere with each other and reduce the overall quality of users' communication.
Connecting these routers to the modem can be a technical challenge ( Wired or Wireless).
 Users who move between routers may experience disconnections ( Yellow Area ).
Using Two Regular Routers for full WiFi Coverage (with more than -65dBm signal level everywhere).
Regular Router Coverage: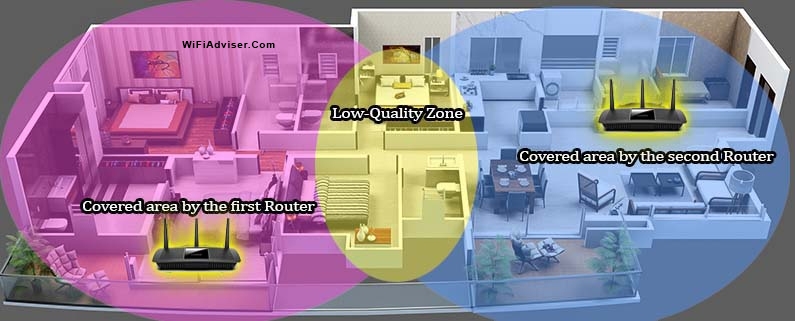 Important Note: In WiFi networks, users are served in turn. This means that as the number of users increases, the overall quality of the service decreases. Therefore, try not to use a long range wifi router in crowded places such as movie theaters and stadiums.
How to check the Signal level?
you can check the signal strength at any area of your house or workplace by using "WiFi Analyzer"  applications on your tablet or smartphone. This apps display the WiFi signal strength in real-time using visual methods and charts.
Read More : Best WiFi Analyzer Tools
The average WiFi signal strength is about -80dBm to -35dBm (dBm is the unit of signal strength measurement). A larger number (a number closer to zero) means a higher signal strength. Your signal strength shouldn't be less than -65dBm if you want to have good, high-quality wireless service.
The Maximum Power of WiFi Router is Limited …!
Keep in mind that raising the power of a WiFi router has a very important technical limitation. As you know, wireless communication is a reciprocal operation, when a client receives WiFi signals from a router, it should be able to respond to the router. For this reason, the power of WiFi router is LIMITED by the power of WiFi client.Let me explain more:
Imagine that a WiFi router can send a signal up to a distance of 1km to a client located there. can the wireless client Respond to the router from that distance? Is the output power of a WiFi client (e.g., a mobile phone) enough to send a signal 1km away? Absolutely not. 
Conclusion:
In summary, long-range WiFi routers offer superior coverage, stronger signals, extended range, and improved performance compared to ordinary routers. However, these additional capabilities often come at a higher cost. The choice between the two types of routers depends on individual needs, desired coverage, and budget.
With our list of the best long-range WiFi routers in 2023, you can make an informed decision that suits your needs and budget.
Best Long Range WiFi Routers :
The market has plenty of options for consumers, but finding the best long-range WiFi router can be complex. The good news is that we've put together a comprehensive list of the top long-range WiFi routers in 2023.
First on our list is the TP-Link Archer AX90 . This router features Tri-band WiFi and 8 high power antennas , making it ideal for handling heavy tasks like 4K streaming. Its coverage of up to 5000 sq.ft makes it stand out.
Second is the ASUS ROG GT-AC5300. This router offers an excellent combination of speed and coverage, with a coverage range of up to 5000 sq.ft. It's perfect for a large family that requires multiple devices on the network.
Lastly, the TP-Link AC1750 WiFi Router (Archer A7)  is a best-budget alternative without compromising on quality. This router offers a range of up to 3000 sq.ft and supports dual-band WiFi technologies, making it perfect for most homes and small offices.